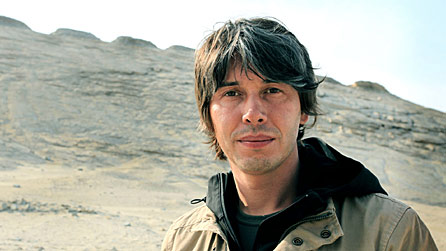 Back when Prof. Brian Cox had the rather limited remit of just our own galaxy, Wonders (as the cool kids call it) was a huge success — the biggest science documentary series for years, probably. This time, with an entire universe to play with, will the new series see the Professor's star rise even further..?
Yes: this series has its own BBC Two ident.
Wonders of the Solar System was a perfect storm of Brian Cox's infectious enthusiasm, gorgeous cinematography and mind-blowing physics, and here, with 100,000 billion galaxies each containing 100s of billions of stars to encompass, all of that is simply ramped up to 11.
There's camera flare, CGI and lyrical narration a-plenty, but with a genuinely world-class physicist at the heart, the programme always manages to pull back from being a triumph of style over substance.
I would rather he got onto the nitty-gritty of the science a little quicker though — the sequence in which he used the movements of a glacier as an example of how time is always striding forwards may have been lovely to look at, but it didn't need to be quite so lengthy. The metaphorical examples do sometimes have their place though; I've never understood the concept of entropy until Cox explained it in this episode using a sandcastle and little British flag.
So while I could do with one or two fewer lingering shots of Professor Cox silhouetted against some majestic skyline, in the end he is certainly to be applauded. Not many people could make an hour about the universe's tendency towards disorder, the inevitable death of our Sun, and the ultimate destruction of life itself so enjoyable.
Bring back Call My Bluff! (Oh, and donate…)
I was originally going to cover the highly emotional Famous, Rich and in the Slums this week, but in fact, David Walliams's comedy panel show marathon had such a massive response over the weekend that it's worth turning our attention to this (currently) web-only Comic Relief special instead.
If, for some reason, you didn't spend your entire weekend glued to your laptop, I shall explain. 24 Hour Panel People saw David Walliams (not content with swimming the Channel in impressive time) take part in panel show after panel show, all broadcast live on the Red Nose Day website, from midday on Saturday until midday on Sunday, taking in everything from Celebrity Juice to QI along the way.
For someone who buzzes off the awkwardness of blanket coverage TV, it was a complete joy — we didn't just see the panel shows themselves, but also the warm-up guy, the guests getting into position, and pickups and retakes galore. Anyone who's been to a panel show recording will know that they can often feel like they lasted 24 hours, it's just that this one literally did.
The 8 Out Of 10 Cats and Buzzcocks of this world went pretty well, but many of the highlights were actually provided by shows which were resurrected purely for this record attempt. I happened to wake up at 4am, and found myself giggling at the wonderful Tim Key and Alex Horne doing Call My Bluff; it was so much fun!
There are so many clever comics around at the moment who could excel at this, just stick it in the Only Connect slot on BBC Four. The comeback campaign starts here, people. Josie Lawrence also showed just how brilliant she is on Whose Line Is It Anyway, and Marcus Brigstocke and Rufus Hound well and truly proved that Argumental shouldn't have been cancelled.
I can't pretend to have watched it all, but the many hours I did see were very entertaining, and if you missed it, it's all going to be edited down into more easily digested chunks for BBC Three. In the meantime, donate — you know you want to.