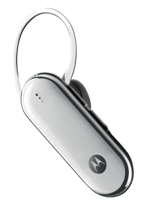 Bluetooth headsets aren't the most exciting gadgets this planet has seen, what with their ability to turn us all into the sort of loons who shout at themselves on the street. But if you're in the car, you're going to have to get yourself hooked up to a flashing blue earpiece.
After seeing my other half's rather manly Jawbone PRIME Bluetooth Headset, my clumpy old headset just didn't seem good enough.
Time for an upgrade in the form of the Motorola H790, a stylish and slim device created to appeal to us gadget-loving ladies.
So does the quality match the style?
Well in a word, yes. The earpiece is lightweight and slim, and fits comfortably around my ear without pinching. The slim and petite loop is obviously designed with women in mind. The earpiece itself is compact and easily stored away in my handbag.
So it looks good, and it's comfortable on the outside of my ear. Like most earpieces, it does start to ache a bit after an hour of wearing it, but I've come to accept that this is the reality with any form of earpiece. I'm going to be a nightmare when I hit 80 and need a hearing aid.
The Motorola H790 is easy to use. Simply hold down the top button once to use the voice option and choose who to call, or hold down for a couple of seconds to call back the last person you called. The earpiece has a handy volume control on the side, too. No pre-programming or complicated setup needed, just charge and go!
The best function of the Motorola H790 is the CrystalTalk™ technology, which blocks out external noise fairly effectively. It really does work well, blocking out traffic noises, wind, and general chatter.
Gains points for

Sleek and stylish, a step away from the old clunky designs
Ear loop keeps the earpiece firmly in place without pinching

CrystalTalk™ cuts out external sound and allows you to hold a clear conversation

Ease of use, simply click or double click

Voice function
Loses points for
🙁 You need to have your phone fairly close to your earpiece, otherwise the sound quality decreases dramatically
🙁 The size of the loop cannot be changed if you have slightly larger ears
🙁 It starts to hurt my ears after a while, as it's in-ear.
The conclusion
I like it! The design is contemporary and girlie without resorting to a bright pink skin. The quality of sound is excellent and I like the voice function, so I can call who I want to without fiddling about with my phone. It even announces who's calling.

Motorola H790 is £59.99