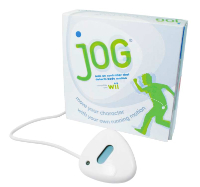 I recently reviewed the Wii fitness game Your Shape, and I loved it, so jOG was already off to a good start.
The game involves a small pedometer-style accessory that plugs into your nunchuck controller. Unlike Your Shape, it doesn't have dozens of different features. Instead it simply adds a new dimension to your current games.
The motion sensor in the accessory overrides the current instructions of your games, meaning that you need to constantly jog or run on the spot in order to make the game work.
Simple, right?
To set up, yes it's fairly simple. What's hard is maintaining a constant jog whilst attempting to play the game at the same time. Co-ordination is key here, something sadly missing from my DNA, so I struggled a bit.
If you can't jog and text at the same time, you'll probably face the same problem.
The actual concept is a good one though, depending on the game you use. It works well with the action games like Lego Star Wars but not so well on quiz games like Who wants to be a Millionaire?
Wins points for:
Price: Only £12.29 at Argos
Allowing you to get off the sofa and move a bit more during the more sedentary games
Loses points for:
Game compatibility: It worked on all the games we tried, but there are plenty it doesn't work with.
Conclusion
A budget purchase to keep you on track with your New Year resolutions. Strictly reliant on your own self discipline though.