The off-grid lifestyle really appeals to me. Not in an "I'm a neo-nazi and I don't want to pay taxes" type way, but in a "I'd like to live in a cabin in the woods and make furniture out of hazel twigs" type way.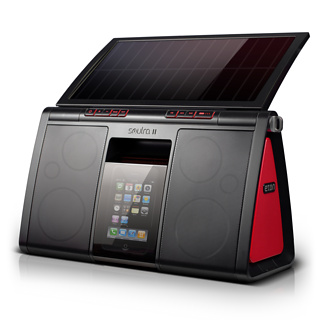 So, when something like the Eton Soulra XL Solar Powered iPod Speaker Dock (£199.99, Firebox) comes along, the temptation to try it out is too great for me to resist.
You have to charge the dock initially, but then the large solar panel on the back should send a decent trickle charge that will maintain the battery for quite some time. You will, however, need to bump up the power every now and then with some mains juice.
The dock itself is a fairly hefty object. In fact, I was disappointed that it was clearly not going to be the camping solution I'd hoped for.
This is not something you'll be taking on picnics or putting in a backpack any time soon. It might be OK for glampers who've got space in the back of the 4×4, but you're not going to see hipsters walking round with one on their shoulders (that still happens, right?)
Non-portable portable solar iPod dock
What it's designed for is a more permanent placement on a desk or windowsill. That way, it can benefit from the trickle charge provided by the sun. The solar panel is designed to open out from the back of the unit, allowing you to position it in the best sun-guzzling position you can find. This gives it quite a large footprint, taking up significant space on my desk. If you're looking for a compact, lightweight, portable iPod speaker dock, this is not the unit for you.
The volume on the solar iPod speaker is impressive. It was quite a cold, digital sound, but it certainly packed a punch – especially with the bass button switched on.
The good and the bad
There were things I really liked about the Eton Solar-powered iPod speaker dock. I liked the fact that you didn't need to keep it plugged in, that it produced its own power, and that you could move it from room to room fairly easily; I liked the fact that it produced a good sound (even if it was on the cold side).
I thought the design, weight and footprint were less successful. I had hoped I'd be able to take the speaker camping with me, but this is definitely a stay-at-home unit. Its design didn't really do it for me either: if you've bought an Apple product, chances are you want to use it with something with a similar aesthetic. The black, Toblerone look is certainly an acquired taste.
Available from: www.firebox.com £199.95
Product Features:
8 Speakers (2 tweeters, 2 woofers and 4 passive radiators )
22W output with bass boost
5 hours to fully charge in direct sun
5 hours of playback (depends on audio volume)
Charges iPod/iPhone in 4 hours
Remote Control Storage
Removable gel-cushioned carrying strap for extra comfort
Anti-glare tinted iPod chamber
Audio Line input socket
Supplied with Mains adaptor for Home or office use
Measures approximately 38.4cm(W) x 20.6cm(H) x 13.3cm(D)
Weighs approximately 3.175 kg