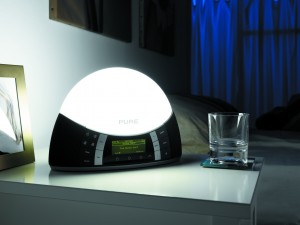 Last week world-leading radio manufacturer PURE launched Twilight, the world's first combined dawn simulator lamp and digital radio. I went along to the launch and took one home with me for a trial to see if it could really get out of bed on these dark winter mornings.
Wakey Wakey
As well as digital radio, you can choose to wake up to FM radio, an alarm tone or one of the various sounds from the built-in PURE library such as a cockerel crowing or bells chiming. I went for the soothing sound of Radio 4 to get me up along with setting the simulated dawn light to start 15 minutes before the radio kicked in. I was initially skeptical but I found the light woke me naturally before the radio had a chance to jolt me out of sleep, which left me feeling more awake than I normally am in the morning.
But Twilight is a whole lot more than just a radio alarm clock…
In The Mood
Twilight can also doubles as mood lighting device with a variety of pre-programmed settings to choose from as well as the ability to manually set it to a colour of your choice. The mood settings range from  'Fire', a cosy imitation of a flickering flame (and my personal favourite) to 'Party,' which may seem like an odd mode to have on and alarm but I'd be lying if I said I didn't have a mini bedroom disco with it the minute I got it home!
The lamp itself is touch sensitive and very easy to use with one touch turning it off and a sustained touch increasing the brightness or dimness of the light.
Sweet Dreams
As well as waking you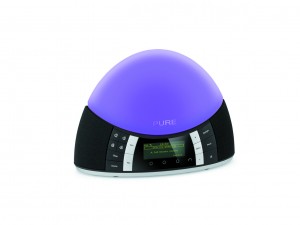 up, Twilight can also send you to sleep with a combination of gentle lighting and sound effects which can be programmed to fade out after a set time.
I loved this feature as I like to drift off to the sound of the radio but hate leaving it on over night. If you find the radio too stimulating to fall asleep to, you can choose from a series of relaxing nature sounds — although if you're a cat owner (as I am) I would strongly suggest you avoid the birdsong!
Although Twilight is aimed at adults, it can also double as a night light and features a variety of traditional lullabyes to help settle little ones off to sleep, especially when paired with a gently alternating light setting.  Admittedly, during the demonstration of this feature at the launch event I found myself relaxing into a rather dream like state so perhaps it might not just be useful for getting the kids to sleep!
Energy efficient, space efficient
According to PURE, TWILIGHT is the most energy efficient product of its type on the market. It uses LEDs which provide the same light output as a 45W incandescent light bulb for just 5.4W when in use (1W on stand-by).
Equally innovative is the way it can help save space and reduce clutter on your bedside table. It doubles as a reading lamp, contains a power port to charge a mobile device via USB and an auxiliary input for an MP3 player, all of which cut down on the number of cables and power points needed.
I found the LCD display and interface very intuitive and easy to use and especially liked the inclusion of a button to get you straight back to main menu without having to backtrack through various screens.
I'm really impressed with Twilight and can see it being a big seller this Christmas. I definitely wouldn't complain if Santa left me one under the tree!
The PURE Twilight retails at £129.99 and is in stores now.
Like this? Read this!
Five of the best Sunrise Alarm clocks