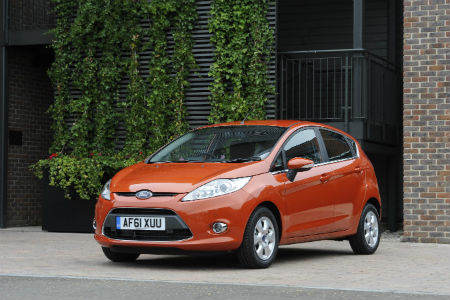 I don't review cars often. I have a little Peugeot 206 that I drive like a go-kart and it gets me from A to B.  It's nice but…well, lacking in gadgets and not exactly eco-friendly.
While I'm quite content with my little run-around, I'm still keen to keep an eye out for something a little better.
And if it can be eco-friendly as well, all the better!
So with rather excellent timing, the PR people at Ford got in touch with a new car they wanted Dork Adore to try out. In fact, they wanted us to drive it all the way down to eco hotel The Scarlet in Cornwall.
The Ford Fiesta ECOnetic is part of Ford's eco-friendly range of cars that have "ULTRA LOW CO2 output without sacrificing power and performance."
So, does eco-friendly mean you scrimp on the fun? 
In a word, no.
The Ford Fiesta Econetic is packed full of those gadgets I hanker for, including an eco-mode to help drivers achieve better fuel economy and Auto-Start-Stop which turns off the vehicle when it's idle (say, at traffic lights).
Sadly our car didn't have the rear camera that some of the other tester cars had, but the general consensus was that it was a handy tool (especially if you're a nervous reverse parker).
We did have the Gear Shift Indicator, which lets you know when you need to change up a gear. This works with the ECOnetic system to get the most out of your car: you produce more power, but with less fuel.
There are all sorts of other eco-friendly tools too, but most of them work away with very little input from me.
Final thoughts
If you've driven a Ford Fiesta before, the actual driving experience won't be hugely different. It's just as good to drive on the country roads as it is to speed up the motorway (and it really can speed). But the gadgets enhance the driving experience, and it would be foolish to not consider an eco-friendly car when your transport needs an upgrade.
Prices start at £15,845.00 on the road for a 3-door Ford Fiesta Titanium Econetic.
PS. What about The Scarlet eco hotel?
Visiting The Scarlet eco-friendly hotel in Cornwall was definitely an added bonus to trying out the Ford Fiesta Econetic. The building itself is beautiful, with outside pools, balconies in all the rooms and scented fires that help you relax straight away.
The bedrooms are slightly odd….I think I'm a little too reserved for a bath tub in the middle of a shared room and a wet room shower that leaves the toilet soaking. That said, the rest of the room was luxurious, proving that being conscientious needn't mean going basic.
A word of warning though, you'll get very little wi-fi signal here. You can use the hotel's, but I think they like to encourage you to disconnect. It goes in with the whole 'retreat' atmosphere I guess!
Ford Fiesta ECOnetic official website.