The Wacom 'designer tool on the go' Inkling (available from Amazon) is a digital pen which records what you draw as you draw it using Real Ink on Real Paper. It lets you create layers as you go and stores up to 10 pages worth of pics which you can then transfer to your computer. Sounds pretty great, right? Well, don't rush out to get one just yet…
Specs
Windows and Mac compatible
Supported applications include Adobe Photoshop and Illustrator (CS3+), as well as Autodesk, SketchBook Pro and SketchBook Designer (2011+)
Working time: around 8 hours (awkwardly, the Wacom site lists this as both 'up to 8 hours' and 'up to 15 hours')
Charging time: up to 3 hours
Capacity: up to 10 pages can be stored in the receiver clip
File formats supported: .wpi (original vector format), .wac, .svg, .bmp, .jpeg, .png, .tiff, .pdf
USB 2.0 full speed
Supports paper size up to A4
Infra-red and ultrasonic data transmission
Full specs may be found here
What's in the box??!
Wacom's Inkling digital pen, Inkling receiver, Inkling charging case, batteries, USB cable, 4 spare ink cartridges, Inkling Sketch Manager app, quick start guide and an online user's manual.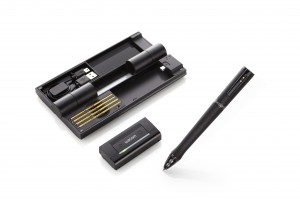 The case
The Wacom Inkling's nifty little case holds the whole package – four spare pen cartridges, USB to mini USB cable, pen and receiver clip. You charge the pen and receiver by slotting them into the case and connecting the case to your computer via USB – complete charge takes about three hours and lasts around eight. Also, I rather liked the simple notch that is used to change the pen's ink cartridge – you put the nib of the pen into the notch, angle it and pull, and the cartridge comes out. It's all very neat and convenient.
The pen
The pen is a bit on the thick side, though this didn't hinder me too much and I imagine that the more you use it the more natural it will feel. What did trip me up a couple of times at first is the fact that the sensor is positioned behind a plastic grid near the pen nib. It's this sensor that transmits the pen marks to the little receiver clip as you draw, but as I normally hold pencils/pens fairly close to the nib my fingers stopped the signal from getting through (not all the time, just when I forgot to keep my posture). Again though, this is something that I imagine would become less awkward with time.
Another vaguely annoying thing is that the nib is a little bit loose so it clicks and presses in a little bit every time you press it onto the paper, though I think this is part of the mechanism that makes it pressure sensitive – but more about that later.
Since the pen is a biro, the line it produces isn't the most consistent, with the ink fluctuating in tone and making you (me) want to go over the line more than once (this may have just been my sample of the device, though I did try a few different cartridges with the same outcome). And I know that some biros are fluid and constant and nice to draw with, but this one certainly wasn't – in fact I was a little surprised as Wacom is normally heralded for its quality. Anyway, what this meant was that it didn't feel natural to draw with, at least not without going back and drawing over the line again, which is of course reflected in the digital copy of the drawing stored on the device, making it look messy. If you can get past the actual biro part, however, it works fine since the sensor will record whatever you are drawing even if the ink does not.
The problem
You can export the files to Illustrator or Photoshop (I tried CS4 Mac versions of both) and immediately you can see a marked difference: Illustrator doesn't pick up on line weight. This isn't a deal breaker, especially as Photoshop does manage to distinguish between hard and faint lines to some degree. What is a deal breaker, however, is the fact that the lines of the drawing become displaced in relation to one another:
Example 1: Ziggy the dinosaur (Diagram A)
Diagram A shows a screenshot of Ziggy as shown in the Inkling app. You'll notice that this otherwise remarkably accurate rendition of a tyrannosaurus rex is looking a bit on the warped side – that is to say, his tail spikes are all out of whack. Some of them aren't even touching his awesome bod! I think this is where I first started to realise that something wasn't quite ok with the Inkling's tracking.
Example 2 (kindly excuse quality of Real sketches)
Not the best picture to start with, sure, but there is some clear distortion going on here. As you will likely notice, Kevin's face is all over the place – his pointy little teeth don't tally up with his mouth, nor his vacuous eyes with his eye sockets, etc. Frankly, everything is all over the shop and the pressure sensitivity isn't great either.
This happens regardless of how I change the settings and, looking around online, I'm not the only one with this problem. I guess if you just want to jot down some design ideas this may not be much of an issue, but I don't think you would easily be able to use the drawing itself as a preliminary part of a finished picture because it will just look a bit squint. Saying that, I think the biggest discrepancies lie on different layers, so it can look a bit better once you move the layers about a bit – better, but still not 100%.
The ability to create layers as you draw is very useful for this reason among others – you can, for example, draw guidelines, create a new layer, sketch some features, create a new layer, add details, create a new layer, etc. But again, there's a bit of a problem: after a while it becomes difficult to see what is what on the Real Paper since you keep biro-ing over the sketch again and again… Also there's no way to erase as you go along, which makes things just that little bit more awkward.
The consensus
The Inkling may be alright for sketching down ideas when you're away from any other sort of drawing implement, and the actual product is presented very nicely; however, I wouldn't want to use it because of its tendency to consistently distort drawings, and that's a shame because I really really wanted to fall in love with it. It's a great idea but its fatal flaw means that the Inkling is unlikely to reach any great height of popularity – which is somewhat demonstrated by the fact that it retailed at £149 a couple of years ago while today it averages at around £80 online. I hope that the bugs get ironed out sometime in the future and it gets a shiny re-release, but until that happens it's a no-go from me.
Incidentally, it would be cool to try out some similar products, which perhaps weren't necessary designed for drawing, and compare the results. Do you have any ideas or suggestions? Is there a particular something you've wanted to try out? Just let me or the Dork Adore team know and we'll see what we can rustle up!
Available from Amazon and eBay