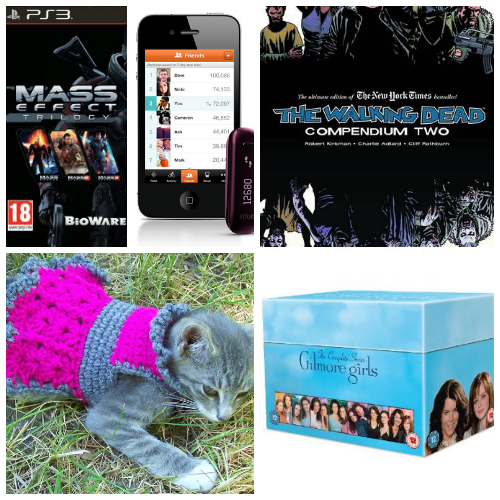 What do the geeks want for Christmas this year?
Nick Bryan
As Christmas looms, I've been most gripped not by British or American TV, but by the final series of Danish mega-export-wool-hit The Killing (aka Forbrydelsen). Now, yes, you've missed it, but the complete boxset of the whole damn trilogy has been rushed out, so you can re-live it, or pass it on to a friend.

Alternatively, if you've seen The Killing and need more, excellent Danish political drama Borgen has a first-series DVD out, and returns for a second run in January. Seriously, up there with West Wing and The Thick Of It for me in making politics entertaining.
Or if you like The Walking Dead comic books and have already got the first massive 48 issue compendium, they've finally released the second one! Definitely getting that.
Kate Bystrova
May I please have the Mass Effect box set, Dishonored and also a pre-order for the special edition of Ni No Kuni? And I guess a PS3 to play Ni No Kuni on since my PS3 flatlined about a month ago. And a back up PS3 in case that one dies too. And an iPad 3.
And a cat sweater. Obviously.
Rebecca Noakes
With an upcoming wedding I am aiming for a healthier new year in which I plan to get in the gym, eat better and sleep better. The Fit Bit One (£79.99 from Firebox) is designed to help me do just that.
Tracking your movement throughout the day, your overall health and your sleep pattern it helps you be more aware of your body and fitness.
It syncs wirelessly with your computer and smart phone to make tracking your health easy with charts and challenges that you can set yourself. Get fit and have fun!
Emma Cossey
I'd love an Audible membership to keep my audiobook addiction rolling. Working from home means I love my home comforts, so I'd love a foot warmer to keep my feet cosy. I'd also like this waterproof notepad for when I think of things in the shower, and the Gilmore Girls boxset.
Oh, and a Foodee monthly box. Surprise food in the post is why the internet was invented.
White good gifts are banned in my family, but I do really love that Gtech AirRAM cleaner. I'm really hoping a book light (I'm thinking Peppa Pig) for my Kobo is in my stocking. And I totally fell in love with that Ampersand Necklace from Bookish England.
Oh, and since I've yet to watch an episode, please may I have the Fringe Boxset?
Related: What the Dorks want for Christmas 2011
What the Dork Adore writers want for Christmas 2010
What are you hoping for this Christmas?