The very best shoes reflect your creativity and personality. I've been on the hunt for the best customised dorkish shoe collections out there.
Hopefully, it will inspire you to get creative yourself!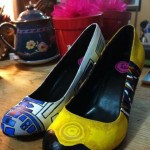 Star Wars Themed
These Star Wars heels from Etsy are inspired by R2D2 and C3PO. The designer custom made the heels painting one shoe to resemble R2D2 and the other C3PO.
They are cute, creative, bright, fun and – best of all – they are a one off as the designer only made one pair.
Lego Shoes

Designer Finn Stone was inspired to give an old pair of shoes a new lease of life by creating these LEGO shoes.
Now it is a widely known fact that treading on LEGO is extremely painful, so wearing a pair of Lego shoes does not sound all that appealing.
However, these shoes are old stilettos that have been embellished with Lego bricks on the outside.
If you wanted to recreate the look, any worn, comfortable shoes could be used. I am not entirely sure that these shoes would match any outfit but I do think that they look amazing and I want some all the same.

Wonder Woman
Over at The Mary Sue Blog we are shown how to transform an old pair of pumps into some sparkly Wonder Woman-themed shoes.
I think I would take to wearing these shoes on particularly busy days to give me the feeling that I can in fact do anything!
Doctor Who Theme
Another one off creation found on Etsy, these Doctor Who-themed pumps are hand painted with a Dalek on one foot and a TARDIS on the other.
These shoes are finished in fantastic detail!
The Avengers
These lightweight Toms are a little different from the other shoes in the post as they are actually just Photoshopped images. But they are pretty cool all the same so I wanted to include them.
These fan-made images were posted on a Tumblr blog. Each pair has been customised to represent one of The Avengers.

Portal Design
These customised Converse Hi-Tops have a Portal theme. As a fan of the game I absolutely love these!
I found them on Kyozokicks website where they explain their ideas for the design.

DC vs Marvel
These Toms have been customised with a comic book theme. There's no need to pick a favourite – one foot features DC Comics heroes whilst the other has Marvel favourites.
More foot hacking fun on Dork Adore