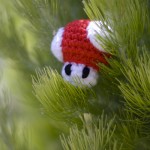 Earlier this week I gave you a roundup of some of the best Christmas decorations for geeks. However, as wonderful as they all are, it can't be denied that us crafty types can never resist the opportunity to do it ourselves! So I give you, not one, but two free patterns to get you crafting up a storm this festive season with these mini Mario mushrooms and invincibility stars from Amy's Odyssey.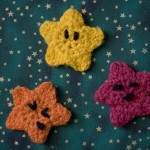 Who could possibly resist the sight of these cute little crochet fellas peeking out through the branches of their Christmas tree this festive season?  If you make plenty you could even string them together for some totally dork-tastic Christmas bunting!
But please do remember, mushrooms are for life not just for Christmas, so be sure to find them a new spot to live once the tree comes down!
What are you waiting for — go get hooking right away!
Related: Free Patterns on Dork Adore | Mario on Dork Adore