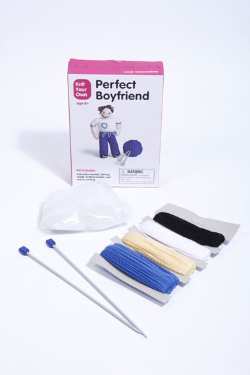 Urban Outfitters has a tendency to stock some slightly odd products at times in their home section. The high street retailer stocks a mixture of unusual gifts, including antique-style teacups, sushi erasers and a tea yellow submarine.
The 'Knit Your Own Boyfriend' kit is their latest addition, appealing to the nimble fingered singletons out there.
Crafters can put their imagination to the test with this kit, which includes knitting needles, stuffing coloured yarn and a instruction manual to get you started.
Coupled up? Use it to create a mini Doctor Who instead. Or perhaps a mini Merlin?
More fun with Knitting? Check out our Free Knitting Patterns section.