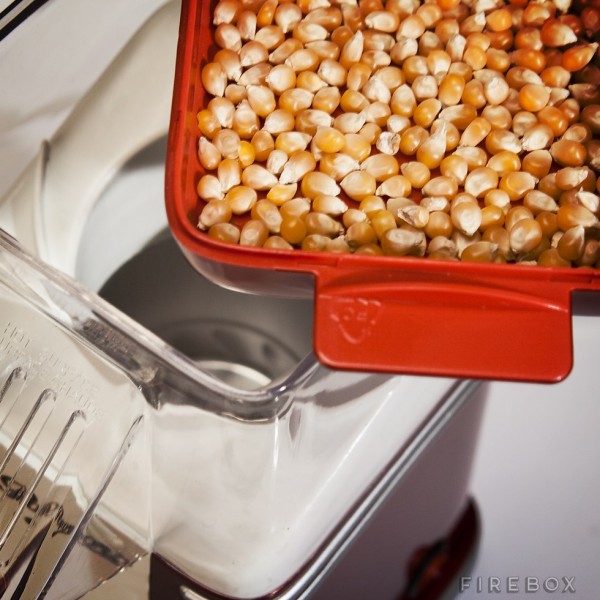 Spending time in the kitchen, cooking up a storm, is something you either love or hate. For every lover of the slow cooked, take-your-time type of approach, there are about a dozen people who'd rather have something quick and tasty (and if you're like me, with a minimum amount of dishes to do afterwards…).
But for Christmas, I say we make spending time in the kitchen fun for everyone. So, I went out looking for some of the best, most colourful or quirkiest things to give to the kitchen wiz in your life this Christmas.
For the retro style fan in your life, getting them this awesome candy floss maker (IWOOT)  would be a good start. It'll transform anyone's kitchen into a fifties diner – plus, it'll make for a brilliant talking point at any party. Also in the spirit of talking points at parties, get this mini popcorn maker (Firebox) in for the next film night (you'll have to provide the caramel yourself though…).
If you've got a friend who isn't really a morning person, then buy them a present which will brighten up their day. Literally, if it's in the form of this bright yellow toaster (Amazon UK) waiting in the kitchen. Or how about an equally bright and flexible (yes, you heard that right) lunch box (Firebox) ?
If there's one piece of kitchen kit that's been getting all the love this year, it has to be the slow cooker (A Thrifty Mrs was particularly enamoured by hers). If you've got someone who loves to make elaborate casseroles and warming stews, get them this family slow cooker (Lakeland) for Christmas (and make sure to invite yourself over when they try it out).
And finally, possibly the geekiest thing to have in anyone's kitchen – and therefore the ideal present to give out this Christmas – a Death Star cookie jar (Firebox). And if you don't want people to touch your baked goods, just hang a sign on it reading "These are not the cookies you are looking for…"
(Pictures and links below)
Mini Retro Popcorn Maker from Firebox (£34.99) – FoodSkin Flexible Lunchbox from Firebox (£19.99) – Nostalgia Electrics Retro Hard Candy Floss Maker from IWOOT (£49.99) –  Death Star Cookie Jar from Firebox (£39.99)   – Kenwood kMix Boutique 2-Slot Toaster in bright yellow from Amazon UK (£38.10) – Lakeland Brushed Chrome Family Slow Cooker from Lakeland (£29.99) –