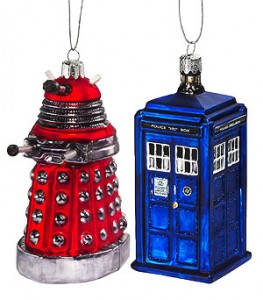 The organised ones among you will already have your tree up and raring to go for Christmas. But if you're more lax in your festive arrangements, you might like to cast your eyes over these trinkets.
These Doctor Who tree decorations are available from the BBC Shop. You can choose from a Tardis or a Dalek and they're priced at £13.99 each or £27 for both.
This may seem on the expensive side for a tree decoration, but they're made from mouth-blown glass and are hand painted. You can justify the investment since they're a collector's item rather than just an annual novelty item (that's the story we're telling ourselves, anyway).
You can also get them in various sets with DVDs and t-shirts, which would make the ideal present for the Whovian in your life.
Unfortunately, there is no guarantee that putting a Tardis on your tree will result in an ability to time travel or a Matt Smith in your stocking, but a girl can dream.
Christmas is magical, after all.