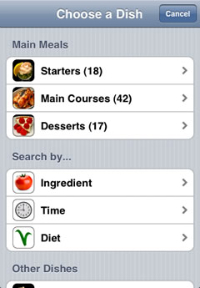 Catering for a dinner party has got to be up there on the stress scale with organising a wedding or a surprise birthday party.
We've all seen the Come Dine With Me episodes, where the host cries/gets drunk/screams at her guests when the meal falls to pieces. Cooking for a group of people, particularly if they have varied food tastes or allergies, can be a nightmare for even the most organised of us.
iPhone app Dishy hopes to show us the way through this social disaster of a situation with their cooking aid.
I've been testing it out this week, here's how I got on.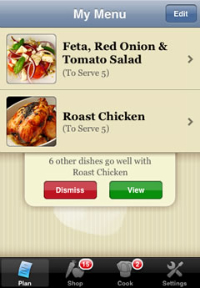 The app allows you to choose a meal for each course you're cooking, and give you the recipe and shopping list for each. Straightforward so far and similar to a lot of the current products floating around, especially in the Nintendo DS.
The thing I like about this app is the ability to choose your meal by diet, ingredient and time. So say you have a vegetarian coming to eat, pasta to use up, and 40 minutes to cook the dish, it will calculate all the best options.
Once you've picked your courses, you're taken to the shopping list. Here you can remove the items you already have, so you're ready to hit the shops.
The app also features a timings feature, so you can look at when you need to cook what, and an alarm to warn you when the food needs removing from the oven.
So, after testing it a few times, here are the pros and cons.
Wins points for:
Easy setup: No configuration needed, just download and install.
Share function: You can share an image of your masterpiece on Facebook and Twitter straight from the app.
Simple step-by-step guides
Suggestions: It suggests the perfect side dishes for your meal
Loses points for:
Lack of recipes: Only 95 at the moment, although it easily updated further down the line.
Conclusion
Coming in at £2.99, it's seriously rivals products 10 times its price. Buy it and organise a Come Dine With Me week with friends to show off your culinary flair.