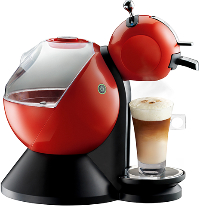 I have a feeling that most of us, given the choice, would rather pay through the nose to pick up a frothy coffee from one of the coffee shops that dominate the high street, rather than resorting to coffee granules and a bit of hot water at home.
It's just a little bit more decadent and a hell of a lot tastier.
So, I think it's about time we test out one of the most stylish coffee machines available, to see if it is possible to recreate at home.
The Krups Dolce Gusto is straightforward to use. All you need to do is fill the tank and pop n one of the 16 capsules of the coffee and milk mixture into the top of the machine. The starter kit comes with a cup, saucer and tall glass, so you can really get that coffee shop feeling at home.
Overall, I found a few pros and cons with this product.
Wins points for:
Style. There's no doubt that this is one stylish coffee machine, especially for anyone with a more contemporary kitchen.
Speed. Your drink is ready in 20-40 seconds. Plus it makes your kitchen smell amazing first thing in the morning.
Taste. It took some adjustments, but the finished results really are as tasty as one from a coffee shop.
Loses points for:
🙁 Waste: The capsules mean you get through a lot of plastic waste, plus you then have to go out and buy more!
🙁 Size. Big is beautiful…unless it takes up more room than your toaster. Then it's just annoying.
Conclusion
Aesthetically pleasing and tasty too, I like the theory behind this. However, I fear the novelty of this might grow a little old when I run out of capsules. A great Christmas gift though for a die-hard coffee lover.