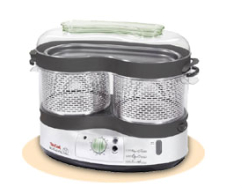 Ah winter! How you tempt me with your takeaways, roast dinners and sticky toffee puddings. Unfortunately, your chilly winds and drizzly rain mean the only exercise my jogging bottoms are getting is getting up off the sofa.
Time to start consuming something a little healthier.
An easy way to eat healthier is to cook your food differently, and steaming is one of the best ways. Tefal have kindly let me try their VitaCuisine steamer to cook something hearty but tasty.
The VitaCuisine comes with three compartments, so you can cook an entire meal in one go. The two stainless steel baskets  at the bottom are suitable for fruit and vegetables, whilst the flat cooking plate is suited to meat and poultry.
I tested it out with a basic chicken and vegetable recipe. To set it up after the initial cleaning, you fill the base with water, and then fill and stack all the other bits up together.
The steamer comes with a timer and a vitamin + button to ensure you get as much of the goodness out of your food as possible.
20 minutes later and I'm tucking into my dinner!
The VitaCuisine wins points for:
Ease of use: Fill it with water, pop your food in, and set the timer
Compact: Smaller then the usual high stacked steamers
Economical: Cooking all your dinner in one machine saves energy and time.
Loses points for:
🙁 Washing up. Cooking for just me meant I had to wash up 6 different sections. Although this would be acceptable when cooking for a family
Conclusion
I really enjoyed using this, and I'd definitely use it again. Unlike other steamers I've used before, this one didn't leak steam all over the place either.
I'd fully recommend it, especially if you're looking to kick off those new year resolutions early.
VitaCuisine £77.03 from PixMania