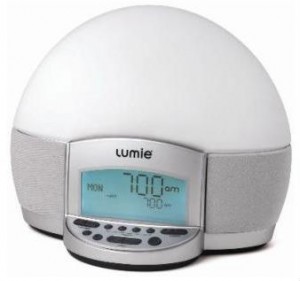 The dark days are upon us and Mother Nature has left us all to manage our misery as best we can. Being an enterprising species, we've concocted various different alcoholic beverages to drink at various different winter festivals (Christmas, New Year, Midwinter, Twelfth Night, the office Christmas Party). But if the booze can't shake your Seasonal Affective Disorder, you could always try sitting yourself in front of a sun lamp for half an hour to see if that helps.
There are now loads of lamps to choose from, and many of them also work as "sunrise alarms" which wake you up each morning with a false dawn in the hope of leaving you feeling less like hiding under your pillow until the winter passes.
Here's a round-up of some of the best SAD lamps and sunrise clocks.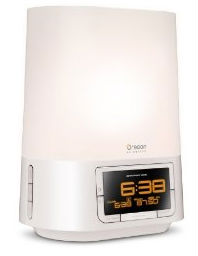 Oregon Scientific I-Wake-up Sunrise Clock
I've been using the Oregon Scientific SAD Lamp by my bed for a few weeks now and I'm really rather liking it. SAD lamps often seem to suffer from a touch of the uglies, which seems a mite unnecessary considering how often lights are used to create beauty in a home. The Oregon model isn't the prettiest available, but the simple design (it's basically a light box with a digital bedside clock on the bottom) means it's not hugely offensive either.
Gains points for
I love the way it works as a nightlight, with the lamp coming on at the same brightness level you left it at. It's made feeding my daughter at night a calmly lit affair.
Big digital clocks aren't to everyone's taste, but I'm -10 in both eyes and I can see the time at night on this… if I get close enough.
Ease of use. This clock keeps it simple, with just a few buttons on the front and the programming buttons hidden away on the side.
Loses points for
🙁 Lamp could be easier to switch on. A minor niggle, but in the middle of the night, finding the right button isn't always easy and I've accidentally activated the alarm a few times now. I'd like a big button on the top to hit instead.
🙁 The Nature Sounds for the alarm are crickets, and three variations of water running or hitting shore. The sound of water trickling is not the sound I want to wake up to. Beds + trickling water = dreams about weeing the bed.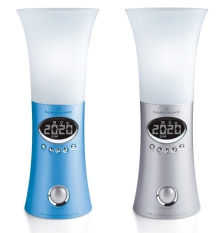 Naf Naf Sunrise lamp and alarm clock
This slimline creation won't be to everyone's taste. I thought it was pretty attractive considering the very low price tag (for a SAD light), but others have baulked at its hourglass shape. Like the Oregon model, it's all plastic, and it certainly feels a bit cheaper in comparison with the others. But if you want a simple sunrise wake up alarm and you don't mind the more unusual design, I think it's a good option.
Gains points for
Cheap price tag. So many sunrise alarms are scarily expensive that it's nice to have one for belt-tighteners.
Six different calming noises to wake you up.
Loses points for
🙁 The grey plastic. What is it with sunrise lamps and grey plastic?
🙁 Centre of gravity. I kept knocking it over.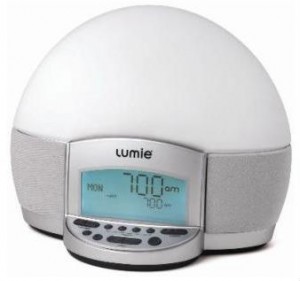 Lumie Elite Bodyclock
I've had the entry level Lumie Bodyclock Sunray 100 for a few years but this model is the more stylish, sophisticated top-of-the-range Elite 300 model. The dome is made of glass instead of plastic, for starters, giving it a feeling of quality that the others lack.
It also comes with a number of extra features, including a choice of wake up calls and some spoken word relaxation sessions. The inclusion of an SD card reader means you can plug in your own music if the dawn chorus doesn't appeal.
Gains points for
Seven day alarm setting means you can tailor your daily wake up calls to suit your needs
A better quality build than you usually get – though it comes at a price
Easy to use and with enough features to suit most gadget fanatics.
Loses points for
🙁 For that price a digital radio would have been a welcome inclusion
🙁 You actually need to read the instruction booklet for this lamp or you'll find yourself sitting in the dark when you switch the lamp on only to find it slowly dimming to nothing after half an hour.
Philips goLITE BLU
I bought my sister a Philips SAD lamp for Christmas a few years ago and it perked her right up (though I'm not sure either of us are truly convinced that light therapy is any better than a placebo). This lamp, however, promises something slightly different thanks to the colour of the light.
Instead of bathing you in a glow of white light, the goLITE serves up a halo of "blu sky" light that will apparently stimulate your body clock, making you feel more lively.
It's a lot more compact than the lights you normally get for SAD and because it's rechargeable, you're not tied to any particular spot when you're undergoing your therapy. Apparently, it's also effective for treating jet lag too.
This one is a tricky one for me to review because I'm currently waking every 2-3 hours in the night to feed a 3-week-old baby, so I'm unlikely to ever feel truly lively. However, Amazon reviewers seem to love it, and I've certainly noticed that it helps to make me feel less lethargic during my usual winter afternoon slump.
Gains points for
Portability and compact design
Fixing up your circadian rhythm so you can go about your business with a spring in your step.
Loses points for
🙁 Design. is it too much to ask for a nice-looking light box?
🙁 Time limits. It's fair enough to request you only switch this on for 15 minutes to heal the gloom, but it does inhibit the usefulness of this as a light source. This lamp is strictly for medicinal purposes.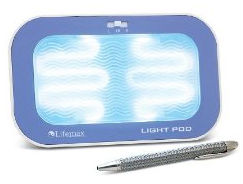 Lifemax Light Pod SAD Light Therapy Lamp
This is the budget option for those who are depressed about the dark and also depressed about their bank balance. Handy for popping by your computer when you're working, this little lamp won't take up too much desk space.
It's not going to win any design awards, however, and it's fairly functional when it comes to looks and build quality. That said, you can pay a lot more for lamps that aren't much better looking or better built. Like the Philips model, you're not supposed to use this constantly or you'll mess up your circadian rhythms and you won't be able to sleep at night.
At least, that's what they say, but my sister uses hers as a light in the living room and hasn't suffered any of the consequences so far.
Gains points for
Being an affordable SAD light
Size and efficiency. It's small, compact and simple to use.
Loses points for
🙁 The small size does limit its therapeutic abilities, but it's still a great starter option
🙁 It's not ugly, but it's not pretty either.