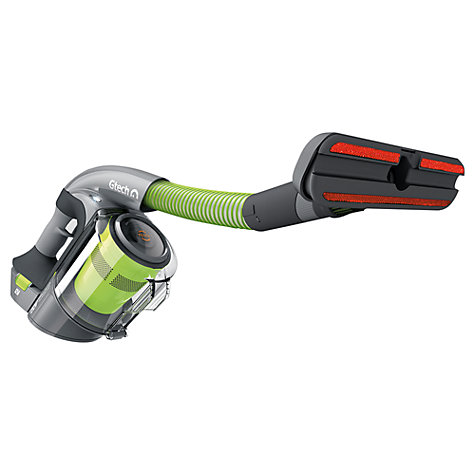 Is this the handheld vacuum that trumps Dyson and Black & Decker?
When Gtech invited me to their latest press launch, I admit I was pretty thrilled. Setting aside my obvious need to get out more, the main reason I was so excited was that they promised a new product that wasn't just an upgrade of the AirRAM, but was going to be small enough for me to carry home.
It didn't really take a genius to work out it was going to be a handheld vacuum cleaner (although after Dyson launched a hand dryer for public lavatories, all bets are off). And speaking as a human who really gets quite a kick out of spot cleaning, I for one was deeply over-joyed.
Yes, I really do need to get out more.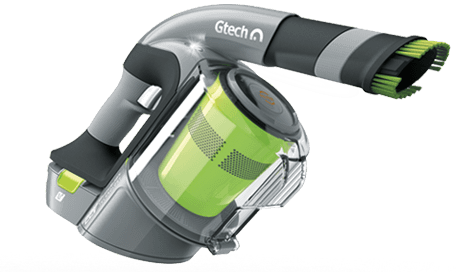 The Gtech Multi is a very slight little handheld, designed to be a partner to your Gtech AirRAM, which is brilliant but limited. The guys from Gtech (who are based in Worcestershire, fact fans) were very keen to talk about all the attachment options, which gives it about nine different cleaning modes. But really, the major selling points and stars of this particular cleaning gadget are the two LED headlights that shine on your dirty house as you attend to yet another day's skin and food debris.
Of course, there are other things you can get excited about. The extending hose is a neat idea and the battery life is excellent (quoted at 30 minutes and certainly delivering that on my trial). But it was the LEDs that had the room full of journalists gasping (apparently I'm not the only one who needs to get out more).
Cleaning with this little sucker was really excellent. Four years and two children after I got my car, I finally went out and vacuumed it. As you can imagine, it was revolting. But just having a battery-powered cleaner that had the power for the job gave me the final incentive to get out there and remove four years worth of cake and snack debris (and that was just the driver's seat).
The long hose was excellent for reaching under the seats, the carpet attachment did a great job of sucking up the general debris, and the bendy tubing made the really tricky areas a lot less tricky. But best of all were the lights, which made the whole thing feel less like potholing.
But just as I was about to give this a glowing and loving review, the bin fell off. Because of the way it's designed, the dirt bin sticks out slightly. And it's really easy to knock off – especially if you're crawling around a car trying to remove evidence of your slovenly ways.
Although it fell off repeatedly in my extreme vacuuming test, it didn't let itself down in a less challenging environment. If it lasts long enough to make it to my next car clear out, I will be parcel-taping the bin to the unit.
So, other than that little niggle, do I have any other complaints? Cast your memory back to my hilarious and earth-shattering Gtech AirRAM review and you'll recall my quibble about the product design. Well, I'm going to do the same again.
I don't understand why two such excellent cleaning gadgets don't have an ergonomic, practical and stylish storage solution. Why can't you hang the Gtechs up? The founder of Gtech told us that he spends a lot of time reading reviews. I really hope he reads this.
I love these cleaners, but they should be easy to hide away in cupboards. The Multi isn't even easy to put neatly on the floor thanks to its design. It prefers to topple over onto its nose. If you're a person who likes to have a nice neat place for everything, you'll find it frustrating that you can't attach the Gtech Multi to a wall or the inside of a cupboard.
And finally, you can get the extended arm for free by filling in your personal data on the Gtech website. I pretty much always use it with the extender on. I wish it was another few inches longer so I could use it without having to crouch over like a crone.
But minor quibbles aside, I really do love this little handheld. I've used a lot of spot cleaners over the years, including the Dyson Wool + Wood, Black & Decker Flexi Hand Vac, Vax and various other cleaning gadgets. If I had to pick one to take home with me, it would be the Gtech Multi. It lasts longer, cleans better and it's got those lovely LEDs.
Gtech ATF001 Multi at John Lewis