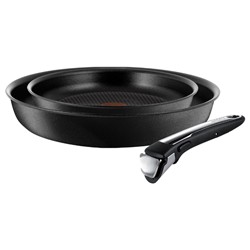 Cooking giant Tefal has announced its new range of cookware and steam generators, and I was invited to their lavish press show to find out exactly what all the fuss was about.
Not being someone who gets excited about saucepans on a regular basis, I was nevertheless pretty impressed by their new Ingenio Collection.
Tefal Ingenio Collection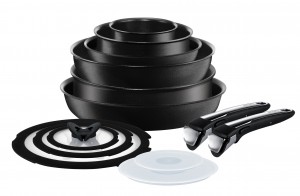 Simple, versatile cookware with a removable handle.   The removable handle makes it easier to:
stack pans;
arrange pans on a hob (plus you don't run the risk of catching anything on the handle and sending everything tumbling to the floor);
use pans in the oven and dishwasher;
double up pans as dishes and fridge containers (plastic lids sold separately).
Ingenious Ingenio
When asked whether I would swap out my current pots and pans for the French all-in-one option, I wasn't so sure. On the one hand, I could definitely see the benefit of a removable handle: easier storage, more hob space, plus it would fit in the oven – and of course the delicious idea that I could keep the handle with me through cooking so no nosy so-and-so's could meddle with my work – were pretty attractive. But I'd experienced flimsy so-called "non-stick" coatings before and these had always ended up chipping with a deliberate gradualness into my food. So would I chuck away all my current cookware for a shot at the Ingenio collection? I gave a non-committal shrug – well, the brand is French.
Frankly, I should have high-fived someone. I was given a new Ingenio induction pan set (two frying pans, 24cm & 28cm, and a saucepan, 16cm – RRP £100) to take for a spin, and after one lunchtime with these babies I am suitably impressed and, I am barely ashamed to admit, somewhat excited. There is something very satisfying about being able to neatly stack away my new set of pans and the decisive way the handle gun clicks into place, but what I am actually (unabashedly) honestly super pleased about is how nothing sticks to the darn things.
I was in a bit of a rush this lunchtime, having popped home on my break, and decided to go for pasta with a cheese sauce – which I stumbled through on a too-high heat whilst successfully covering the entire northeast area of Cambridge in cheddar. None of it burnt to the pan, none of it stuck, and when I was finished all I had to do was wipe the pan and hey presto, it was clean. Also, when the sauce mixture was mostly flour and butter it took the shape of a ball of dough upon stirring, coming away from the sides completely. It was a thing of beauty.
An air of kitchen dominance
There are, however, a few things I didn't love about the pans.
Firstly, while the removable handle is undeniably useful when it comes to fitting the pans into tight spaces (oven, fridge, or just stacking them) it does come across as a bit gimmicky when you're just using a single pan to cook. More importantly, the part of the handle that clomps onto the pan (understandably) takes up a few inches of room, meaning that whatever food you are cooking will get onto and into the mouth of the handle – particularly when using the more shallow frying pans (and they are shallow). You can unclip the handle to wash it, but since the mouth is only a few millimetres wide it makes things a bit awkward – unless you have a dishwasher, in which case I imagine this won't be an issue.
Secondly, if you leave the handle clipped onto the pan during cooking, the front half of it (including unclip buttons and trigger) heats up. This is a bit annoying since it stops you from doing the clicky handle thing that makes the new range stand out, and reverts Tefal's cool space-age hot box into a regular saucepan.
However, neither of these issues is a deal breaker in the long run since the pans are genuinely pretty good and easy to clean (and the handle gives you an air of kitchen dominance). If you've got the cash and are looking to buy a new set of kitchenware, I'd say give these a try.
The full Tefal Ingenio range is available on IdealWorld.