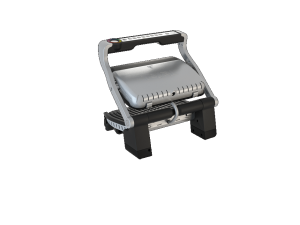 The people at Tefal have been very busy bees ; they've brought out a whole new rash of products, from saucepans to steam generators.
Also new is the OptiGrill, a grill that makes cooking so ridiculously easy, you don't have to do an awful lot to produce brilliant-quality food in the comfort of your own kitchen.
So what's so great about this grill? Read on to find out…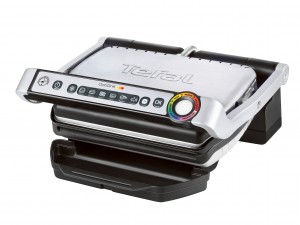 "Restaurant-quality steak at home"
Perks:
    all food cooked in this smells delicious. Fact.
    multicolour LED wheel changes to show cooking progress, including rare, medium and well-done settings
    six cooking programmes: meat, fish, chicken, burgers, sausages and manual
    600cm2 non-stick cooking surface, dishwasher safe and easy to clean
    power 2000W
    seven degree plate tilt for fat release
A wonderfully simple grill
So, this thing makes delicious food, quickly. You just hoy the meat in and it measures the size and thickness of it, adjusts its temperature, and then beeps at you when it gets to rare/medium/well-done. This grill is wonderfully simple, with an easy to read (and pretty) LED colour disk on the front which tells you which stage of the cooking process your dinner is currently in. No oil or anything else necessary. And the result, at least of the several demonstrations I witnessed/ate, is moist and delectable.
Country-based programming
What's also a nice touch is that Tefal has programmed the grill differently for every country based on how people like their food. So, the British rare setting will produce a steak sealed on both sides but nice and crimson in the middle, while the same in, say, France, will produce something that can go from the grill straight to your plate, unassisted.
This is one product that I really would like to have since it seems to do just what it says in my press release: makes it easy to cook really nice meats and fishes with virtually no human input.
The Tefal OptiGrill retails at £129.99. Get yours today from Lakeland or IdealWorld.