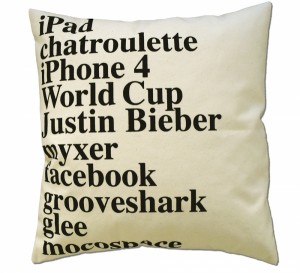 Every year since 2005, Brooklyn based design company ElastiCo has produced a cushion emblazoned with the top ten Google searches of that year.
In this digital age of transient trends, where celebrities are forgotten as soon as their 15 minutes of fame is up, the cushion is a permanent reminder of the things that the world was obsessing about and when.
As a web and popular culture fanatic, I find the idea of having a memorial of internet past on display in your living room a brilliantly original idea — imagine having the full set lined up on your sofa… although I'm not sure I'd want to be reminded of 2010's obsession with Justin Beiber.
Beautifully silk screened and filled with down and feathers, the pillows cost $65 each and are available from their Etsy shop. Only one question remains: what on earth is a grooveshark?