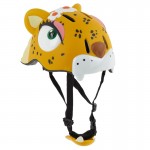 Bicycle helmets that make your child look like a giant zebra can only be a good thing in my eyes.
So thank goodness for the likes of Crazy Stuff! The company has produced a whole range of really quite awesome animal safety hats for your little one's noggin.
The animal bike helmet range has been arbitrarily split into genders (apparently, boys are Toucans and Crocodiles while girls are Chipmunks and Leopards based on eyelash length.
Crazy Stuff Leopard Helmet, £35, Alex and Alexa. Check out the full selection from Alex and Alexa.
Here are some more awesome children's scooter and bicycle helmets we've encountered.
Left to right from top left.