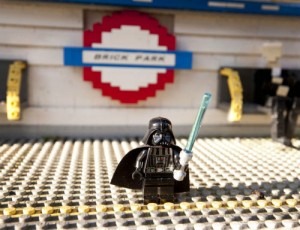 Last week saw an epic battle between Darth Vader and Obi-Wan Kenobi take place on the face of Big Ben in the showdown of Good vs Evil with the Sith Lord even getting the tube home afterwards.
OK, it was the Big Ben at Lego Miniland in Windsor and not the real deal, but I don't think that makes it any less exciting.
Star Wars characters cropped up all over the tiny London replica in honor of the opening of the LEGOLAND Star Wars™ Miniland Experience in Windsor this March.
Seven scenes (one from each film and one from The Clone Wars animated series) will be recreated in painstaking miniature detail using a mind-blowing 1.5million bricks and dozens of talented workers behind the scenes.
The scenes will follow a chronological path through the story, with lighting and sound effects bringing the whole experience to life.

I'm more than a little excited about this launch and I'm not sure I know a sci fan who doesn't get giddy over the Lego Star Wars™ range. I know it's wrong but there's just something so adorable about tiny bad guys!
Are you a fan and will you be visiting when it opens? Let us know below or tweet us @dorkadore!