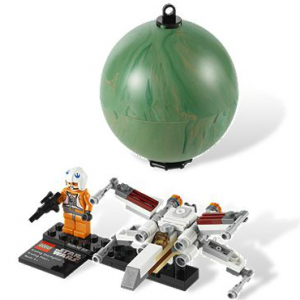 LEGO has had a super run of late, and these affordable new Star Wars Buildable Galaxy planet sets (RRP £9.99) are brilliant.
Sold as collectibles in casing resembling planets (and the Death Star!) from the Star Wars universe, these small vehicles come with a cool minifig and stand.
LEGO's ability to make good looking miniature sets never fails to amaze me – and some of these vehicles get even smaller in the LEGO Star Wars Advent Calendar (buy yours now to avoid disappointment – they sell out quickly and Darth Maul looks particularly good as Santa).
With just a few parts, these X-Wings and AT-ATs, among others, are superb – and perfect for little hands. So hang the planets to your ceiling (or your child's, of course!), and lose yourself while playing at being Luke Skywalker.
I'd hate to belittle these minor masterpieces, but the term 'stocking filler' was coined specifically for them. A great bit of Christmas Day entertainment for any young Star Wars fan. Or old Star Wars fan, for that matter.
The latest Star Wars planet kits are:
Previous releases include:
More LEGO on Dork Adore