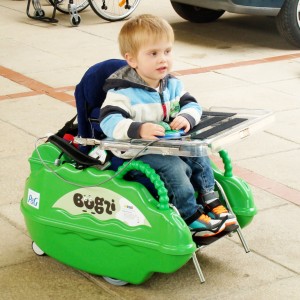 There are plenty of gadgets out there, designed to help kids with disabilities and make their day to day life a bit easier. But what if you can't find what you're looking for anywhere else? Or what if you have a product, but need it modified to fit your kid's exact needs?
Luckily, the people at MERU (Medical Engineering Research Unit) can help you find just the thing you're looking for – and if you can't, they'll make it themselves.
Helping young disabled people feel liberated
MERU, part of the Queen Elizabeth's Foundation for Disabled People Family of Charities, offers a design and manufacturing service of disability hacks for young, disabled people when nothing else is out there to meet the needs of their form of disability.
They aim to help young disabled people feel healthy, comfortable, safe and liberated, so that they can be able to get around and look after themselves, while learning, making friends and having fun.
Pretty cool, isn't it? You can check out some of the stuff they've custom-made on their website.
An array of ready-made products
MERU also has a range of ready-made products, which you can buy immediately off the shelf, in time for Christmas.
(left to right, top to bottom)
Zipz – colourful, grippy zip pulls, making any fiddly zip a breeze to use (Pack of three) (£6) –  Flexzi – an adjustable support system for gadgets like iPhones and remote controls (from £12) – Moozi – a low profile switch joystick which can be used to drive any wheelchair with a switch-type controller (from £144) – Bugzi – an award-winning powered indoor chair for pre-school kids with disabilities, allowing them to experience independent mobility (£4,800) – Splatz XL – a non-slip big button holder, which also makes for a brilliant non-slip plate holder (£19.20)  – Splatz Eco Edition – uses half the material of the Splatz XL, but without losing any usability (£12) 
You can check out all the cool stuff MERU does for kids with disabilities on the MERU website. And if you would like to support the charity this Christmas you can find out all the ways to help them on their support page.