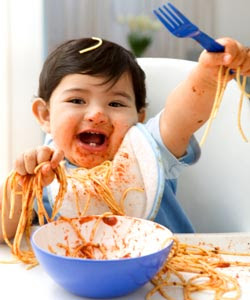 With more parents making the decision to make their own baby food, it's no wonder that companies are cashing in.
Making your own baby food can have a multitude of health benefits, as well as being cheaper than tinned and jarred options. But do you really know where to start?
Once you've got you've made your flavour selection of avocado, turnip and carrots (yum!), you're left with a few options:
1. Boil, steam and mash in a pan in hope baby will respond to slightly watery mush.
2. Use a special baby food processor to make life easier for both you and baby.
There are a number of baby food processors and food prep gadgets on the market, all catering for different needs and wants. Here to make life simple, I've picked out the top three to suit all needs.
Which baby food processor is for me?
Boon Mush Manual Baby Food Processor: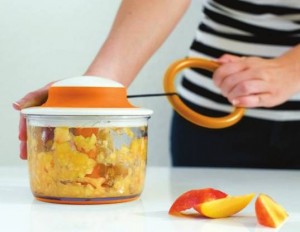 A slightly ingenious invention, this manual powered baby food processor is perfect for when you're travelling. The silent blades can whip up a meal in minutes and it's all powered by good old manpower!
Add chopped vegetables, fruits, meats and fish and pull the attached cord to turn the blades. At under £20, it's not a bad deal.
You can buy the Boon Mush Manual Baby Food Processor at Gadget Baby.
Beaba Babycook Food Processor: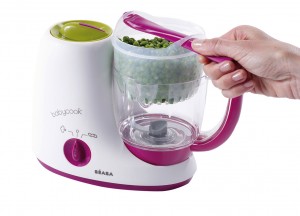 Ideal for the first-timer, the Beaba Babycook Food Processor does everything in one. From defrosting to steaming and blending, it's a simple option that's designed for easy use.
Cooking fruits, vegetables, meats and fish within fifteen minutes, this is suited to the working parents or those who want to make baby food in batches and freeze later.
At £80, it's price is around average for this type of product and it can be purchased from Just Kidding.
Babymoov Food Processor Nutribaby Zen: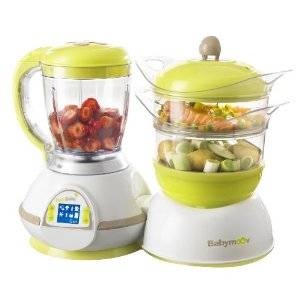 The most expensive product of the three, the Babymoov Food Processor Nutribaby Zen is worth splashing the cash. The blender and steamer combined can hold over a litre of food, making it the latest capacity on the market.
With two different levels for steaming, the processor is designed to make sure you get the most nutrients from each food group meaning that you could always prepare several different meals at once.
Priced at £99.99, it's available from Amazon with free UK delivery.
Do you make your own baby food at home? What equipment do you use to make life easier?