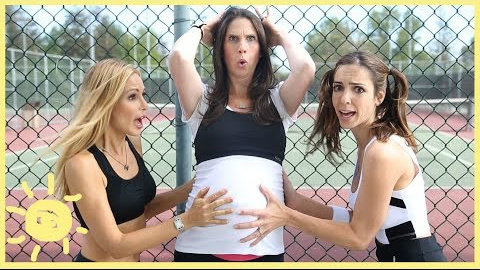 As our editor Katie can probably testify, having young kids is a bit like having a full-time and a half day job on top of your actual day job. Time becomes a myth, personal space stops existing and what the hell is that thing called "sleep" anyway?
Sometimes, you need a reminder that you're not alone. That other people are experiencing the same thing and that you're alright for thinking a successful day is a day where nobody ended up in hospital. And when you don't have time to talk to your friends-with-children (who may also be strapped for time and knee-deep in spilled baby food), then YouTube may well be your saviour.
Here are a couple of the mums and dads of YouTube, here to help, hint and let you in to their daily life.
Jonathan Joly and Anna Saccone (the titular Saccone-Joly family) are YouTube veterans, vlogging their family life regularly since 2009. They both have seperate channels as well, but SACCONEJOLYs is where they join forces as a super parenting/vlogging team.
They've got two kids (Emilia and Eduardo) and six (!) super cute Maltese dogs. Anna also talks about her life as a mum on her own channel, combined with beauty, baking, diet, fashion and a healthy dose of life. During her pregnancies, Anna also kept a regular pregnancy vlog, with updates on how she was feeling – which is an essential watch if you're a mum-to-be yourself.
Hannah is relatively new to vlogging, having moved from being a beauty blogger, but she's well worth checking out. She also kept a regular pregnancy update vlog, aside from talking about getting ready for the birth, essentials for the baby and things like beauty and hauls.
If you're about to give birth, or you're newly pregnant, or you've got an under-1 year old at home, Hannah's videos will definitely ring a bell with you. You can also read her blog, and in the meanwhile marvel at how adorable baby Grayson is. And if you've got a partner who is (to put it gently) freaking the heck out about the upcoming baby action, Hannah's husband Stef made a handy survival guide video for you.
You all know the lovely Louise from Sprinkle of Glitter by now, and good on you because she's one of the best YouTubers out there. Aside from videos about things like beauty, fashion and general larking about, Louise also vlogs her daily life (on her side channel Sprinkle of Chatter) which includes her husband Matt and her impossibly adorable three-year-old Darcy.
So, what you get is a mix of life as a mum and life in general, with all its ups and downs. If you're not subscribing to Louise yet, you really should.
Marie radiates sweetness in every video. It is a fact. She's best friends with Louise from Sprinkle of Glitter, and it's pretty obvious why: they're equally awesome. She has two kids called Scarlet and Luca, and she also vlogged throughout her pregnancy with Luca – there's even an epic video from the day he was born.
Marie also crafts and bakes, which endears her to me even more.
Three US mums unite in order to let you know that you are definitely not alone – and yes, someone else gets it. It's kind of comforting, I imagine. On Mondays, Meg provides kitchen tips and updates on her pregnancy. On Wednesday, Elle vlogs, gives tips and tries to make you laugh. On Friday, Brooke provides you with DIY project inspiration.
A collaborative effort in reassuring and comforting mums and mums to be. I can but applaud it.