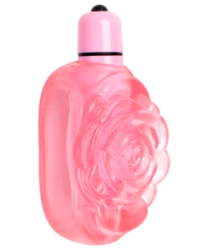 When the designers at Ann Summers sat down to design their latest vibrator, I'd imagine the conversation went something like this:
"What do girls like?"
"Flowers. Flowers and pink"
"Right, lets create a vibrator that combines both of those things"
The result is the Rose Petal Clit Stim. I saw this floral vibrator recently at an Ann Summers party and was a little thrown by the design.
How exactly can something shaped like a rose be pleasurable to anything other than the eye?
The secret is all in the bullet. For those that haven't been to an Ann Summer party before, you're encouraged to test out the vibrator on the tip of your nose. Following the instructions I popped it against my nose, and sneezed.
Always a good sign.
The Rose Petal Clit Stim is fully waterproof, easy to hold thanks to its soft handle, and couple friendly. You can buy it online or in store at Ann Summers for £15.