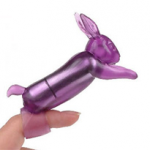 First of all, I need to lay my cards on the table. I hate it when vibrators have little faces etched into them. I understand for some it's 'cute' and there are some legal reasons behind it in Japan, but I don't particularly want to be faced with a rabbit's cheesy grin when using a vibrator
So already I was off on a bad foot when testing the Dinky Rabbit Finger Vibrator.
I wanted to like it, though. It has the benefit of having a powerful bullet which you can remove, and the fact that it sits on your finger appeals to my lazy side too.
Putting aside my initial concern on appearance, I have to admit this isn't a bad toy. It's not the strongest or the fastest, but the vibrations do travel nicely to the all important ears. For me I found the let down was the quality of the outer rabbit skin that encases the bullet. Made from a soft rubber, it seemed to reduce the level of vibrations.
If you prefer a vibrator that's a bit gentler, then this is your toy. It's versatile too, as you can swap the outer 'skin' for one of the others in the range, like the Dinky Dolphin Finger. You can purchase it for under a tenner, at £9.95, and if all else fails you've still got a decent bullet vibrator.