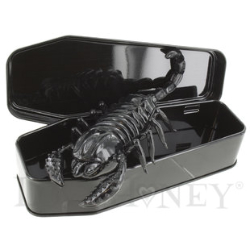 Halloween is a bit of a rubbish time for adults. You're either left with the duty of creating a Halloween costume for your offspring, who are often bouncing off the wall from all the free sweets, or attending some awful themed party.
In an attempt to improve this day for the grown ups, LoveHoney has released a range of Halloween-themed vibrators called Death by Orgasm. Right.
In fairness, this Speed Scorpion (£12.99) on the right is pretty terrifying. Brings a whole new meaning to the term 'don't let the bed bugs bite'.
The scorpion is a rubber sleeve, encased around one of their speedy bullets. Other products from the range include four coloured bullets (silver for the Werewolf, gold for the Mummy, black for the Vampire and some kind of neon green for the Zombie) and a cock ring called the Fang Banger….
They all come in a miniature coffin with spare batteries, with prices ranging from £9.99 to £14.99. Which is a bit of a bargain considering the standard bullet alone is around £10, without batteries.