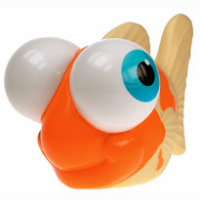 The I Rub my Fishie (£17.90) on the right is part of a varied range of waterproof personal massagers based on water based animals.
We all know how I feel about basing sex toy designs on the animal kingdom.
I can sort of see what they were going for. After all, the duck versions are popular for their inconspicuous look when left on the side of the bath. The brand labels them as personal massagers to indicate to customers that this is mainly created as a bit of fun.
This is not a toy that expects to be taken seriously.
The thing is, the duck was kind of cute and fun. The fish is….well a bit scary. Bulbous eyes and a slightly constipated grin? Urgh.
Still, if it floats your boat you can get it from SexShop365. Probably one to avoid if you have kids though.