After Jessica's brilliant Fifty Shades of Grey starter kit article, we're all filling our online baskets with whips, chains and helicopters (ok, maybe not quite helicopters!)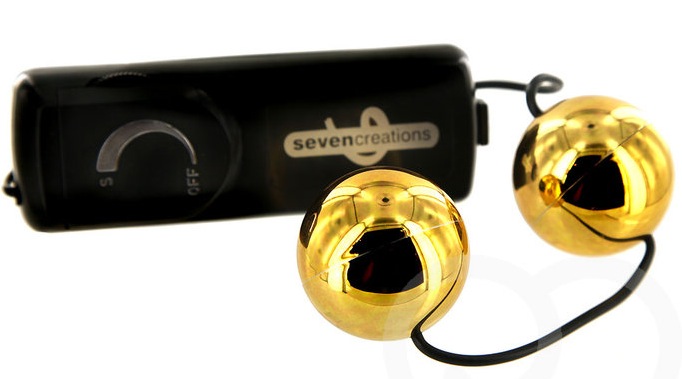 One of the biggest success stories in terms of sex toy sales has been the kegal balls, also known as Geisha balls, Ben Wa balls or love balls.
With reports that sales have rocketed by around 400 percent on some websites, it begs the question as to whether the vibrator has a new rival?
The balls are designed to be worn to either tease and titillate whilst you're out and about or to be kept inside you to enhance pleasure during sex.
It's important to get the right balls as not all do the same thing and are for the same use.
The idea is that, whilst wearing the balls, you can flex your vaginal muscles to tone and tighten yourself to gain a heightened sense of pleasure during sex.
Some balls, particularly the Ben Wa balls, are designed to be kept inside you during sex. These are especially good if you want a really deep experience and one which is guaranteed to hit your G-spot.
So are you ready to give up your vibrator yet? Can muscle toning really lead to an orgasm in itself? And do the balls really live up to the Christian Grey hype?

Fifty Shades love balls
Well, Lovehoney stocks a pair of balls that might just do everything in one. The Orgasm Gold Multispeed Vibrating Love Balls are designed to be worn to tighten the kegal muscles and create amazing sensation. These golden balls can be used by both partners either vaginally or anally. The vibrating aspect is something unique to these types of balls.
Plus, the gold colouring almost makes them look like something you'd hang on your tree at Christmas!
With a multi-speed dial, the battery operated vibrating love balls mean you can enjoy on your own or have your partner ramp up the heat in more ways than one!
At under £17 for a pair, they're a relatively low cost vibrating sex toy compared to the likes of the rampant rabbit and other G-spot stimulators.
One last bit of advice? Go for the full Fifty Shades experience and have these inserted whilst blindfolded; it'll heighten the tension even more. If only we could be using these in Christian's Red Room of Pain!
Have you ever tried any form of love balls? Do you think they live up to the hype? Find out more information about how to use kegal balls at Lovehoney.