"If you're going to get a vibrator, you want something that plugs into the mains"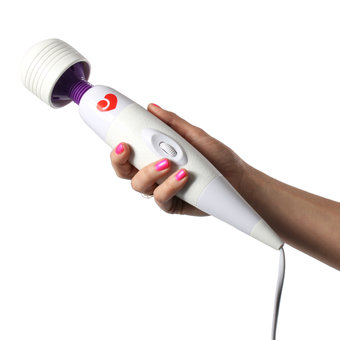 Those were the wise words of advice handed to me by an older, more knowledgeable sex toy aficionado when I was a teenager.
I've clung to that information ever since (although Hollie-Anne may disagree after insisting that "Electricity and sex shouldn't mix unless it's battery powered" in her last piece about the Electrastim Bi-polar clamp) but batteries have remained my main source of power in spite of it.
Then Lovehoney asked if I'd like to try their new mains-powered Magic Wand…
The Lovehoney Deluxe Magic Wand (£49.99) looks a little strange. That's because it was made initially as a massager. But as Samantha memorably attests in Sex and the City, plug-in massagers are really super-powerful vibrators in disguise.
And my goodness is this thing powerful. A speed dial on the side allows you to ramp up the vibrations to almost painful proportions.
I'd definitely advise you start slow and build up to your max speed. Unless you're a bit of a pain-lover, I suspect you'll probably hit a wall before you reach the top level.
This really is a cut above other vibrators. It sends waves of pleasure in its wake, leaving you feeling really quite orgasmed-out.
Plus, it really does make a nice muscle massager too, so you can work off some knots in your shoulders before giving your privates a good service.
If you only buy one vibe, I'd suggest this is the one to go for. It's by far the best sex toy I've ever used – and I haven't even tried the attachments you can get yet.
Things I liked
Amazing, tingling vibrations that start gentle and go all the way up to 11.
Very easy to use
Easy to clean
Very quiet considering the power (although you'll want to keep it under the covers if you're in a shared house).
Things I didn't like
Longer cable would be nice
Quite cumbersome thanks to its heritage (and power). Attachments required if you want to involve your g-spot etc
Danger of blindness due to near-constant onanism.
Buy Lovehoney Deluxe Magic Wand (£49.99) – You deserve it!