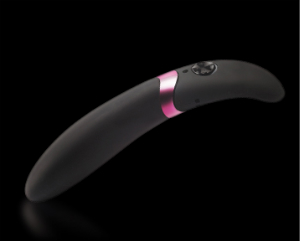 The first thing you need to know about the Nexus Chloe is that it's very, very stylish.
Everything from the black box, to the satin-feel pouch and the sleek design oozes a designer feel perfect for a first time sex toy owner, who I always thought would be intimidated by the usual array of pink, shiny rabbits (and other strange animals)
Discreet Vibrator
I'd even go as far as to say that the Chloe is one of the most discreet vibrators out there.
On first glance, it looks rather like a black designer remote control with a hot pink band in the middle. This is enough to make it girly without it falling into the ridiculous like so many other toy box offerings.
It's slightly confusing at first, even for a geek. The Chloe will have you spending a little time on the user manual to work it out. It comes armed with two motors, one at the base and one at the tip, five variable settings, a built-in remote and a charger.
It's geeky enough, does its job splendidly and it's very stylish. All-in-all, a justified (if a little hefty) price tag at £59.00 and a sex toy that won't embarrass you if left out in the open.
Buy it from Sextoys365.