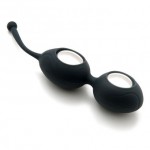 We put together our own Fifty Shades of Grey starter kit, but it was only a matter of time before an official Fifty Shades Of Grey collection was created, and it's no surprise to see Lovehoney is behind it.
Approved by E L James herself, the Official Pleasure Collection has everything from luxe spanking paddles to vibrating bullets. There are 29 products in total, including special editions of the books.
All the products have names relating to the book, which makes me cringe but will absolutely appeal to the Fifty Shades fangirls and boys.
Prices aren't ridiculously high, so you won't need Mr Grey's income to splash out on this kinky set. Books start from £7.99, and the rest of the collection starts from £11.99. You can find the whole Fifty Shades Of Grey collection on Lovehoney.
Fifty Shades Of Grey collection on Lovehoney
Would you buy an official bit of Fifty Shades of Grey for the bedroom? Or are you bored of the gimmicks? Let us know in the comments!