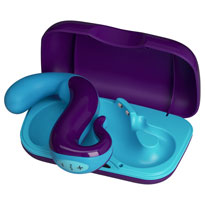 I'm a visual creature, and I like it when a product I buy has as much detail invested into the design, as it does to the practicality. Buying a vibrator is no different.
So I was pleased to come across the Fun Factory range. The range includes a variety of different shaped vibrators and other toys in bright candy colours with contrasting black bases. The range has been designed by women for women, always a good sign!
Several pieces of the range are must-haves. The Fun Factory Delight Rechargeable Massager (right, £71.96) is a well designed S shaped vibrator that can be recharged easily, so no more annoying batteries for you.
This toy even won at the UK Sex Toy Awards 2008!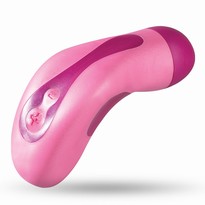 The LAYAspot Magenta and Pearly Rose Vibrator (£33), has the same sort of look as the Nomi Tang we recently wrote about, and is great for those of us that prefer not to have an obvious looking vibrator on display.  I can pass it off as a pretty shaver if anyone comes across it!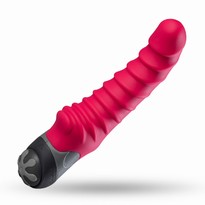 My personal favourite is the Fun Factory Semirealistic Vibrator (£50), which features the practicality of strong vibrations, a silicone skin and it's ultra quiet.  A classic style with a twist!