This post was supposed to be entitled 'Solar Powered Thrills', because I wanted to find and discuss (what should be) the way forward with sex toys: solar-powered vibrators.
I could only find the 'Micro Kitty'.
Unfortunately it resembles a demon gummibear and is also apparently an incognito device that has disappeared from sales – that or you have to be Inspector Clouseau to track it down and buy one.
It all seems a bit silly, we have everything solar-powered – from toy bugs to fairy lights – so why not an environmentally friendly vibrator?
I'll leave that one for Ann Summers to mull over. Instead, I'll introduce what little treasures I did find on my voyage to discover an eco-happy thrill…
Eco-happy sex toys for equally happy customers
They may not yet be solar-powered, but the LEAF vibrator range does incorporate many things that will leave our more eco-aware people happy… and satisfied. They're good for the environment, and moreover, they're also good for you:
Phthalates free. All the vibrators from LEAF are made from silicone and are latex- and phthalate-free. Phthalates have been banned in children's toys in the USA, after the discovery that the esters can be harmful to our health.
Makes you wonder why vibrators containing this ingredient are still being made and why we're still buying them…
Friendly juice. The range of vibrators is powered by low-carbon lithium rechargeable batteries, offering long-life pleasure whilst being less harmful to the environment than other power packs.
The vibrators benefit from "Power Bullet" technology which apparently enhances the vibrations leaving you even more satisfied than ever.
Packaging. You will receive your vibrator in a discreet canvas tote bag that is packaged in a recycled paper cardboard box.
Price and Availability. OK, these vibrators aren't cheap; they range from $120 to $140 (Mimi Deluxe in Australia, Amazon in the US, Simply Pleasure in the UK). They're an investment piece that will leave your conscience clear whilst still getting you off.
Pretty. The vibrators are waterproof, travel ready and lightweight. All the range is aesthetically pleasing with a signature green colouring, and designs that imitate the bodies and environments natural contours. Leaf vibrators are where beauty meets innovation.
The Leaf Vibe Eco-friendly range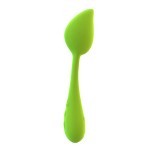 Bloom
6.5 inches long and 1.5 inches wide, the Bloom has unique contours that include a probing head for pin point pleasure pulsations. It is also offers the user versatility as the devices ends are both rounded, and has two separate vibrations ends in its body which can be bent so that both vaginal and anal areas can be pleasured simultaneously if so desired.
The Bloom is available from Simply Pleasure, £89.95 and Amazon US, $67.83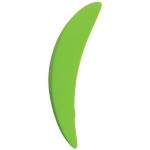 Touch
The Touch looks slightly like a banana but is meant to be an extension of your own body, fitting perfectly into the palm of your hand. Measuring 4.9 by 1 inches this design could be an exceptional "first vibrator" for anyone new to sex toys.
Touch on Simply Pleasure and Amazon US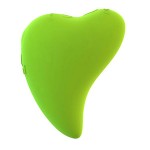 Fresh
The Fresh vibrator is 2.8 inches long and 2.3 inches wide. It is said to follow natural lines of the bodies' contours which offers unbeatable stimulation. The vibrations traverse the entire device so you are welcome to use the vibrator how and anywhere you like.
The Fresh on Simply Pleasure and Amazon US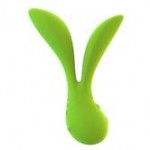 Vitality
The Vitality measures 5 inches by 3.5. It offers two separate vibrators attached to one base, so pleasure can be sought both vaginally and anally or either or! Any part of the curved exterior can be used to discover your pleasure. This is ideal for the more experienced vibrator user.
The Vitality on Simply Pleasure and Amazon US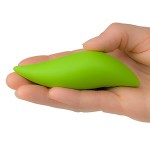 Life
Measuring at 4.1 inches long and 1.6 inches wide, the Life vibrator is the "bullet style" design of the pack. It is small enough to fit in your hand, but the traversing vibrations offers monumental thrill anywhere you want.
The Life on Simply Pleasure and Amazon US
Spirit
The Spirit is slightly tongue-like but with a curve and so is naturally form-fitting. Use the vibrating exterior to send shivers anywhere you want.
The Spirit on Simply Pleasure and Amazon US
Leaf vibrators really are where beauty meets innovation. Eco-friendly, safe for our use, and ergonomically pleasing…I beg for more stockists in the UK!