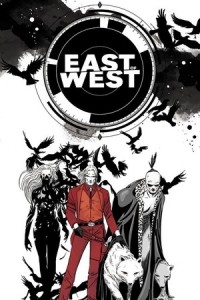 The Sci-Fi Western genre gets a fresh spin in this new monthly comic. Created by Jonathan Hickman and Nick Dragotta, who worked together on Marvel Comics' FF series, East Of West is shaping up to be one of the must-reads of this year.
So if you like your Western wastelands with a side of dystopian doom, and your horsemen of the Apocalyptic variety, you might want to read on…

The Details
Title: East Of West
Created by : Jonathan Hickman (script, with artist Nick Dragotta)
Further work by : Frank Martin (colours), Rus Wootton (letters)
Published by : Image Comics (Spawn, The Walking Dead, Invincible,…)
The Story
In the year 2064, in an alternate timeline America, three of the Four Horsemen of the Apocalypse are on the look-out for their fourth companion. They are trying to save the world. They're also trying to kill the President of the United States.
The end times are coming. But who will stand out as hero?
Why buy?
Nick Dragotta's delicate and detailed art makes this world an absolute joy to discover.
It's one of those stories where, at the end of every issue, you'll be left shouting "BUT I WANT MORE! NOW!"
Death and his two companions are brilliantly realised.
The promise of an exciting story unfolding tantalisingly slowly across each issue.
East of West issues 1-6 are available now at Forbidden Planet.