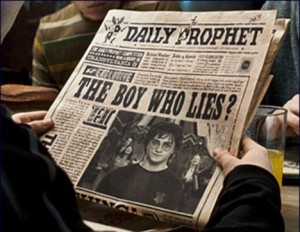 There's a new kid on the social media block, and it's called Vine.
If you love Instagram but have a yearning for more moving images in your life, Vine could tick all the boxes.
It's a social network for short videos, either created in one go or taken over time to create a short story. Each video uploaded to Vine is only six seconds long. Unsurprising really, considering Vine is the brainchild of those clever folk at Twitter – who like to keep things short and sweet.
I've been playing around with it this morning, and I'm already hooked. Basically, scrolling through my Vine feed is a bit like reading a Harry Potter newspaper. With more kittens.
Now, I was going to bring you a round-up of some of my favourite Vine videos so far. Sadly, they haven't introduced embedding yet (unless you share to Twitter or Facebook and embed that tweet or status), and they've followed in the footsteps of Instagram by refusing to initially offer a web presence outside the app.
I'd imagine they will introduce embedding or linking soon though – it would be crazy not to. When they do, I have a few ideas for what individuals and brands can do with Vine…

Website Welcome
I've noticed a few of the American blogs I follow have recently added a little gif of the writer waving to their sidebar. A nice touch, and a great way to personalise your blog. I'd love to see Vine videos used in this way – either using the same welcome wave, or giving visitors a very quick overview of the site.
Beautify A Blog
I'm probably going to regret saying this (does the world NEED to see nail swatches in video form?), but I'd like to see bloggers use Vine videos within their posts, to add a bit of pizzazz. For example, a fashion blogger could squeeze six looks into one 'Vine', so the reader doesn't have to scroll through a dozen images.
How To Tutorials
There are so many ways Vine could be used for tutorial videos. In fact, there's even a tag (#howto) just for these types of videos. So far, I've seen everything from recipes for smoothies to step by step instructions to make a perfect paper aeroplane.  There is a lot of spam on the #howto tag (How To Order McDonalds At A Drive Thru? Really?), but it's worth a browse.
Stories
Fellow Dork Adore writer Nick Bryan has also been on Vine, and said the following when I asked what he'd like to see
"As a story-focused person, I'd be interested to see someone attempt a narrative or web series in six second chunks. Like my Wall-E video, only with cliffhangers."
I'd love to see this too, mainly because I'd love to see what people could squeeze into just a few seconds. A soap story? A comic?
Product Demonstrations
If I want to see a quick product demonstration, I usually pop on a brand's website or search on YouTube. The trouble is, most YouTube videos now come with a bundle of adverts. A six second product demonstration Vine would do the job nicely as a hint at what a product offers, without sitting through yet another advert. 
Are you on Vine yet? What's your verdict – and what do you want to see on there?