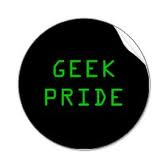 Today is Geek Pride Day — something I wasn't aware of until IWOOT's latest newsletter popped up in my inbox.
Never heard of it before? According to Wikipedia, it's:
an initiative which claims the right of every person to be a nerd or a geek. It has been celebrated on May 25 since 2006, celebrating the premiere of the first Star Wars film in 1977.
In fact, it's a popular day all round in the pursuit of all things geeky. You can also celebrate Towel Day (for fans of the Hitchhiker's Guide to the Galaxy Trilogy) Star Wars Day (although I thought that was 4th May?), and the Glorious 25 May (for Discworld fans).
So, how do we celebrate this special day? By sharing our favourite geek crush of course!
I'll kick off proceedings with a predictable choice – Simon Pegg.
Why I love Simon Pegg
He co-wrote Hot Fuzz, Shaun of the Dead and Spaced, all of which make me snort with loud, and fairly embarrassing, laughter. Hell, I even quite enjoyed his recent alien flick Paul.
He's part of the UK's geekarati, counting funnyman Nick Frost and musical nerd Chris Martin among his close friends. I might even go as far to say as he's the driving force behind making UK geeks cool.
He's funny, smart and a little bit beardy. What's not to love?
Who is your geek crush?