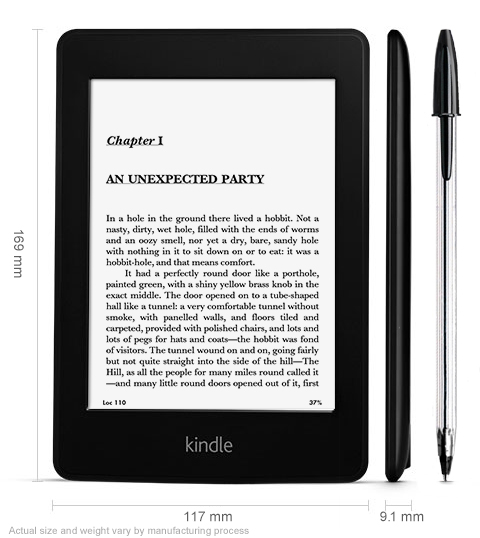 The Kindle Paperwhite: it's great, buy it!
Fine, fine, I'll do an actual review – but the above is a pretty good summary of how the following few paragraphs are going to go.
My previous experience of a Kindle was with the original, which worked well enough but had the downsides of being laggy and a bit bulky, with no backlighting. The Paperwhite dispenses with these issues and more.
[Related: Kobo Aura HD review]
Kindle Paperwhite at a glance
6″ Paperwhite display with Carta e-paper and built-in light; 212 ppi; optimised font technology; 16-level grey scale
Available at £109 for the WiFi version or £169 for the WiFi + free 3G version
Size: 169 mm x 117 mm x 9.1 mm
Weight: Wi-Fi – 206 g; Wi-Fi + 3G – 215 g
Free cloud storage
Stores more than 1,000 books
Battery: dependant on usage, but up to 8 weeks if reading half an hour per day with wireless off and the light setting at 10
Fully charges in approx. 4 hours
Supports public and private Wi-Fi networks or hotspots that use the 802.11b, 802.11g, or 802.11n standard with support for WEP, WPA and WPA2 security using password authentication or Wi-Fi Protected Setup
Supports: Kindle Format 8 (AZW3), Kindle (AZW), TXT, PDF, unprotected MOBI, PRC natively; HTML, DOC, DOCX, JPEG, GIF, PNG, BMP through conversion
So what's it like?
Firstly, it is comfortably light and slim, measuring in at 169 x 117 x 9.1mm and weighing just over 200g – small enough to cradle in one hand while reading fanfiction in the bath, to use an unspecific example.
It's also easy and pretty intuitive to use, mostly as everything is done by swiping or pawing at the touchscreen. (Well, mostly – when I first switched it on I, as usual, didn't even glance at the instructions and spent a while complaining about how the Home menu was extremely unreliable and only appeared when you pressed the top part of the screen. It was subsequently pointed out to me that one had to double tap on the area to summon it. Oh, humiliation is me.)
One thing I love about Kindles in general is the ability to upload PDFs onto them – meaning that you aren't just stuck with uploading bought content (I think I still have my friend's undergrad dissertation on my old one).
Also, the fact that a whole bunch of sites provide MOBI or PDF versions of books/stories/etc. makes holiday reading so much better.
Even when away from your Kindle it's easy to browse for new reading material and email it straight across. For example, when I went away for a week last month and repeatedly ran out of reading material due to lack of foresight and travel-related hindrances, I could sneakily go online using my phone's free 3G connection, find new content and mail it to the Kindle for later reading really easily (thank you, AO3).
A couple of other handy features are Smart Lookup, which lets you look up the definition of a given word (which automatically adds it to the Vocabulary Builder), and the X-Ray, which lets you refresh your memory about a given character by supplying their biography and find passages within the text that mention your specified character/setting/topic.
The battery life is, frankly, incredible. I left mine on airplane mode following a holiday and picked it up a month later to find the battery more than half full. It's ridiculous.
Visually pleasing
The Paperwhite retains the same Carta e-paper display as the original Kindle, meaning that it's nice and unabrasive to the eye. As the surface is matt you don't really get glare, and there are plenty of options for resizing text to make for more comfortable reading. They also seem to have upped the contrast with this incarnation, which again makes reading easier. Like the first Kindle, the display does still have a little bit of a lag to it, but only insomuch as each page flashes before it loads, which is no biggie.
The addition of a backlight is a godsend, allowing the Kindle to be effective in sunlight. I found it especially useful whenever insomnia/excellent-book-omnomnom-nia kicked in as I could turn it up enough for me to comfortably read the text while keeping it dim enough so as not to wake anyone else in the room.
I did come across an annoying glitch in it, although I think it was really content specific. When reading a Project Gutenburg novella (PDF format), the Kindle would occasionally decide to hurl me twenty pages forward when I went to turn the page. But, again, I haven't had this issue with any other files, so I doubt it's something that crops up often.
What about the Kindle Fire?
I haven't tried out the Kindle Fire, but it strikes me as more of a general tablet that an e-reader – do you really need a colour display and all those ads when reading a book?
The Fire just feels like it's trying to be everyone's golden boy. The Paperwhite, on the other hand, knows exactly who it is and even if what you want from it is some yuppie media centre it won't budge an inch. And that's the sort of integrity I can get behind.
For more information on the features of the Kindle Paperwhite, visit its Amazon page here.
Special thanks to Amazon for letting me trial the Kindle Paperwhite
Not ready to commit to Amazon's eco-system? Check out this Kobo Aura HD review from our Kobo-loving editor, Katie.