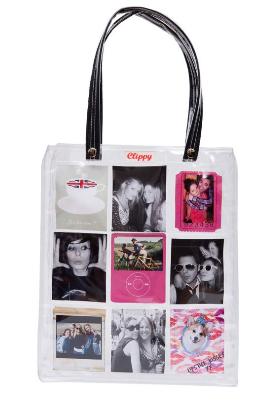 Made from clear plastic pockets stitched together, Clippy bags allow you to create a unique fashion item using your own photos, tickets, Polaroids, old comics or anything else you like.
Simply choose your images, pop them in the pockets and you're good to go.
I'm a huge fan of my Clippy bag, as it caters to my tendency to regularly change my mind. Instead of creating a big pile of discarded bags in my cupboard, I can focus on producing new designs.
Much better for the bank balance!
My husband might think I'm a little bonkers when I'm cutting squares out of an old patchwork skirt or making origami birds to slot into the bag's pockets, but I don't care. I've had several compliments from strangers on my bag recently, and that's enough for me.
If you can't bear to be torn away from your keyboard for long enough to get down to some cutting and sticking, Clippy also offers an online styling option. Choose a bag size, drag and drop your images and the team at Clippy HQ will do the rest.
I love the idea of using comics, Polaroids, playing cards or text in different fonts to create a design that any self-confessed dork would be proud of. How would you decorate yours?
Clippy handbags, washbags and lunchbags are available from www.clippykitlondon.co.uk. The bags start at around £17 and the washbags are £10.