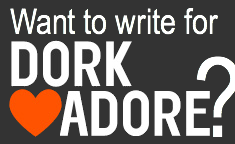 Dork Adore is looking for new writers!
Are you a journalist looking for a creative outlet, a student looking for work experience, or a nerdlinger with a passion to write in your spare time?
Well, we'd love to hear from you!
You can write about:
If you're super-keen, we're looking for channel editors to look after all the posts within each sector.
If you think you've got what it takes, please get in touch with us!
Tell us what you want to write about, send some ideas for things you could cover, send us some samples, and tell us all about you.
Email us at mail at dorkadore.com.