The Kingston MobileLite G2 is an excellent little gadget for streaming media, maintaining internet connectivity and charging your devices – providing that the app doesn't seize up on you.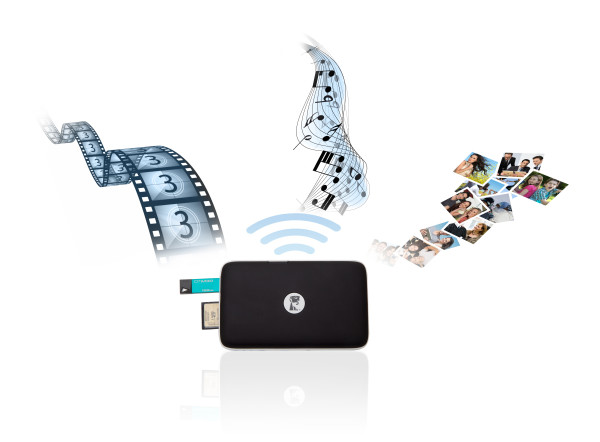 Ok, I will admit that it was not immediately obvious to me how to approach the MobileLite.
It's not that it's intimidating, rather, it more resembles a tiny obelisk with no screen and just the one button, perilously labelled with an embedded power symbol.
I did quickly figure out that pressing the button once enters the device into 'battery' mode, while holding it down for a few seconds engages the wireless connectivity, but beyond that I had to venture over to the internet to discover the name of the appropriate app. (The app is called Kingston MobileLite and, frankly, I should have shown some initiative.)
Setup instructions aren't included with the box and must instead be downloaded on the Kingston site, which adds an extra hoop to jump through but I guess saves on paper, so that's alright.
The Kingston MobileLite app is less flash than the Qfile, but it does the trick, albeit a little begrudgingly.
The app interface is very basic, particularly in comparison to the Qfile, and in places unintuitive. While files are shown using their names or thumbnails, there is no way to select and transfer multiple files at once without moving the whole folder. It repeatedly forgot settings that I had changed so I had to change them several times.
I had the same connectivity issue with the MobileLite as I did with the QGenie: I was near a familiar Wi-Fi network and so my phone kept jumping connection to that whenever I let its screen fade out. On top of that the connection kept cutting out during app setup, which made an otherwise straightforward process rather frustrating.
So I kept being dropped, with an infuriatingly consistency, and the app crashed once. It also lost connectivity with the MobileLite for no apparent reason a few times, regaining it about a minute later.
The lights on the actual device remained lit, so I'm inclined to think that the fault lies with the app rather than the hardware. (Actually, it looks like a few people have run into some trouble with the MobileLite app: check Amazon and eBuyer for some examples.)
Good – when it works
But, all in all, the consensus is that it is a good product – provided that your device is compatible with it.
Alongside the general complaints of app hiccups, I've seen a few comments about how it seems to be incompatible with Windows phones, although I have been unable to test this out for myself as I only currently have access to a Samsung and an iPhone.
On my first attempt to copy some content over to the MobileLite, it wouldn't let me – the only button that wasn't greyed out was 'CANCEL'. It seemed to get over this issue after a couple of reboots so perhaps it was just teething.
The G2 was happy streaming video files to my Google Nexus 7, but some of the Amazon reviews on it complain that it wouldn't stream iTunes purchases (apparently it would open Safari and a play button would appear, but very little else would happen). Again I can't verify this as I tend to keep blasphemously clear of iTunes, but it's worth bearing in mind.
It worked fine when transferring files from, say, an SD card to a USB stick via the phone app, although mine still disconnected itself from time to time, making the process slightly more arduous than need be.
Wifi Hotspotting
You can also use the G2 as a mini router, wired and not, or as a Wi-Fi hotspot (through the use of a USB dongle), which I can see coming in very useful on holiday or generally out and about. After initially connecting to it the way you would to an ordinary Wi-Fi network, you are given the option to connect it to a Wi-Fi router. This gives the G2 and any devices connected to it access to the internet.
In conclusion, the Kingston MobileLite G2 works, but the app leaves a few things to be desired.
I'm hoping that future software updates will deal with the issues as the app is what's holding back an otherwise excellent little device. And, racking in at around £25 on Amazon, it is the QGenie for the everyman – it may be less flash and with a few kinks to iron out, but with a bit of perseverance it does the trick.
I was sent a complementary Kingston MobileLite G2 in exchange for an honest review. All opinions are my own.
Kingston MobileLite G2
USB and SD input – reads SD, SDHC, SDXC and microSD/microSDHC/microSDXC
Supports FAT, FAT32, NTFS and exFAT file systems
Dimensions: 129.14 mm x 79.09 mm x 19.28 mm
Weight: 171 g
Wireless Network Interface: Wi-Fi 802.11g/n with wireless security (WPA2)
WLAN Ethernet port allows it to function as a mobile router
Rechargeable Battery: up to 13 hours of continuous use; built-in Li-ion 4640 mAh 3.8v battery
Camera Roll support
File Support: MobileLite Wireless can store any file type. Playback and viewing are based on the files supported by the mobile device
General file format support:

Audio: MP3, WAV
Video2: m4V, mp4 (H. 264 video codec)
Image: jpg, tif
Document: pdf

Compatible with: Windows 8.1, Windows 8, Windows 7 (SP1), Windows Vista® (SP2), Mac OS X v.10.6.x+, Linux v.2.6.x+
Compatible Mobile Devices: iPad2, iPad (3rd Gen), iPad (4th Gen), iPad mini, iPad Air3, iPhone 4/4S/53, iPod touch3, Kindle Fire, Kindle Fire HD, Android (4.0+)
In the box: MobileLite G2, USB 2.0-to-micro USB cable and a microSD-to-SD card adapter
For full specs, see the Kingston datasheet