I'm something of an audiophile, so it took me ages to settle on the Bluetooth speaker I actually wanted to buy. After all, this was going to be my boom-box, digital radio and shower companion all in one, so it had to be a good all-rounder. Research done, I was all set to go for a Bose model on the grounds of reputation alone – but I was swayed at the last minute by this colourful creation that looks a bit like a hi-tech water bottle: the Logitech Ultimate Ears Boom.
It wasn't the Ultimate Ears' hipster looks that got me in the end, however: it was all about practicality. Read on for how I got on with my spherical speaker once I'd got it home – and for some thoughts on its performance, sound quality and overall design.
What is it?
The UE Boom is one of several portable speakers on the market at the moment, and can be paired with your Laptop (PC or Mac), smartphone or any other Bluetooth compatible device wirelessly, or via USB or 3.5m aux in. It's available in a range of funky colours, has its own free mobile app with the option of firmware updates for tweaking sound quality, and runs for up to 15 hours after mains charging.
Battery Life
I was initially sold on the advertised 'up to 15 hours' battery life of the UE Boom, so I am pleased to report that I have felt this claim to be a reasonable one in the three months I've been using the device. It's worth remembering, of course, that usage will significantly affect playback time, so if you use your speaker for several hours on end at full volume, it's going to run out more quickly. With moderate use however, I've found it will stay charged for as long as advertised, which makes it a better on-the-go option than  the Bose Soundlink Mini and Beats Pill, which both keep a charge for up to 7 hours.
How to use the UE Boom
Pairing is simple, and the Boom does it automatically when first powered up within range of an active bluetooth device. It can also be used to improve sound quality when making speakerphone calls from a mobile.
Having the option of USB and aux in is very useful for pairing with older devices, and I've found the aux in connection particularly handy on car journeys when I've used a male-to-male audio jack (you'll need to supply your own) to connect the Boom to the car stereo.
Portability
Another aspect of this product that gives it the edge over competitors is its ultra-portable shape, robust rubbery casing and water resistance. I knew that I'd want to travel with my speaker, and that I'd also want it with my while I was cooking up a storm in the kitchen or taking a bath (so much more relaxing with a quality podcast!), so this made my decision an easy one.  The rival models looked more sophisticated but also more delicate, and I was glad I opted for a unit that I felt comfortable lugging around on trips abroad, at picnics and in the bathroom!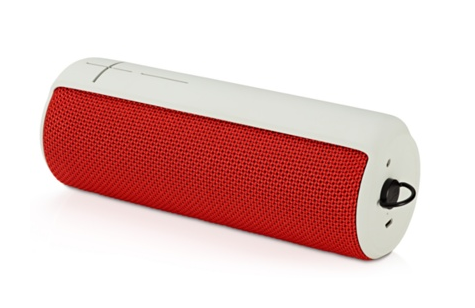 Sound Quality
Sound quality is always going to be subjective to a degree, but one point on which most reviewers agree is that the UE Boom is loud. I've never had to turn it up to maximum volume and have often had to turn it down after pairing with a new device. Certainly more than loud enough for use in an average-sized London flat, I recently put it to the test in a large converted barn, which it comfortably filled with quality sound, still at half volume. It also holds up well in outdoor settings.
Some reviewers have criticised the UE Boom for not quite nailing it in the bass range, but Logitech has responded well to criticism, with a series of firmware updates that include an equaliser setting called 'bass boost' that allows users to tailor their bass settings for a richer sound quality. You can update your speaker directly via the app.
Wireless Range
The UE Boom boasts an impressive 50-foot wireless range, which again really stacks up well against the competition (30 feet for the Pill, 32 for the Soundlink). This is one claim that I have called into question on occasion, but with a clear 50-foot run (no brick walls or other solid objects in the way) the Boom does work under the distance conditions advertised. I would now find it hard to adjust to a product with a shorter range.
Value for Money
I would argue that the UE Boom is the best value product in its category: technically superior in terms of battery life, wireless range and robustness, it gives a great sound and is user-friendly and fun to use. While other brands trade on image or reputation, it's just a great speaker at a good price. Its sound quality is at least as good as its rival products. £170 may seem a lot to spend on a tech accessory, but don't forget this product can be used in place of a digital radio when paired with a laptop or smartphone, and thus completely eliminates the need for a costly and energy-guzzling DAB. It also functions as an alarm clock and can be used to make speakerphone calls in high quality audio.
Any negatives?
I'm struggling to find any major failings of the UE Boom. I'd perhaps prefer a unit that looked a bit more 'grown up' as I'm no longer in the age group that Logitech seem to be marketing to, but I felt I got around this minor problem by picking the more subtle-looking black version. The price is the only other negative, but as mentioned above this is in line with comparable products that do not justify the price tag quite as convincingly. If it came in at under £150, I'd probably buy a second speaker to benefit from stereo sound.
The techy bits
Connects via bluetooth, Micro USB or aux in (standard audio jack)
Pairs with all devices that support A2DP
Up to 15 hours battery life
Battery type: rechargeable Lithium Ion
Wireless range over bluetooth up to 50 feet
Sound Frequency Range: 90Hz – 20kHz
Weight: 540g
Height: 18cm
Where can I get one?
A 'mini' version of the Ultimate Ears Boom is also now available for £89.99 at Argos