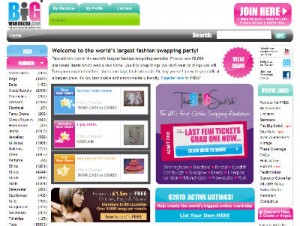 I'm always on the lookout for ways to save money so that I can spend it on fun things, hence my recent move onto a pre-paid Visa card.
eBay used to be my old faithful for updating my wardrobe on a shoestring. Annoyingly I recently got stung by their new charges when selling my Wii, and have now decided to give it a wide berth whilst searching out for a different option
Happily there are plenty of alternatives to eBay online.
First up, you've got Big Wardrobe. I confess that this is one of my favourite sites to browse at the moment, and you can find some real bargains if you scramble through the scuffed shoes and washed out jeans. The basic concept of Big Wardrobe is that you can offer to buy an item, swap it for something they will like, or offer a mixture of the two. It's fundamentally a really chic car boot sale full of designer and high street items. Listing is free too.
Covert Candy is another site based on the concept of making an offer to a seller, but with a different twist. Instead of cash you use credits, so the more you upload and sell, the more you can buy. An easy and simple way to recycle your wardrobe.
New mums will appreciate Little Trader, a buy, sell and swap site that concentrates on  maternity, baby and children's goods. I had a good look on here the other day for ParentDish and found an assortment of baby baths, babygros, maternity dresses and even a few prams.
There are even sites you can update your home or wardrobe with for free. Freegle (previously Freecycle) and the Freebies section of Gumtree have plenty of things that will only cost the the price of picking it up. You can find anything from a sofa to a haircut. Some of the listings are a bit bizarre though. Free rat anyone?
Are there any sites I've missed?