For my money the best mobile games are the ones that you can dip in and out of when you have a few seconds to burn. So here are my top five quick-fix picks.
Fragger (Miniclip)
Any procrastinator worth their salt will have played a Miniclip game whether they know it or not.
Miniclip flash games appear all over the internet and the majority are fantastic fun and very accessible.
Fragger has been a staple title on my phone and a personal favourite for some time now. It's the perfect foil for anyone who's completed every level of Angry Birds and is hankering for more (I know there's a lot of you out there). Of all the target/strategy games out there, this is by far the best value for money.
Fairway Solitaire (Big Fish Games)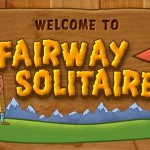 Fairway Solitaire has been a recent discovery of mine, but since downloading it I have found myself reaching for my phone every time I have even the briefest of moments to spare – on the tube, on the train, at work, on the loo… Honestly it's addictive!
The premise is a weird amalgamation of classic Solitaire and Golf with a liberal splash of Gopher to add character – I'm guessing the developers have seen CADDYSHACK.
Bizarrely this combines to be a match made in heaven: Big Fish Games has created one of the most addictive games I've downloaded in months.
Major Mayhem (Adultswim)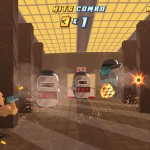 Adult Swim has made a name through creating vivid, often surreal comic creations, with ROBOT CHICKEN and AQUA TEEN HUNGER FORCE probably the best examples.
Drawing inspiration from 80s action movies, Major Mayhem is chock-full of ironic meta-humour – frequently poking fun at its source material and the medium it inhabits.
The game itself is a side-scrolling touch screen shooter, clearly inspired by the 1980s titles OPERATION WOLF and particularly CABAL. Anybody that remembers these games will instantly be at home here and sporting a wry nostalgic smile.
Where's Waldo? HD in Hollywood (Classic Media)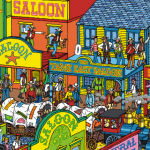 …Or Where's Wally? if like me you grew up the European side of the Atlantic Ocean – and as it's correctly named, I might add.
Where's Waldo? in Hollywood is exactly what you're expecting it to be …unless you've never heard of Where's Wally/Waldo?, in which case I'm frankly dumbfounded and I'm sending you off in shame to google Where's Wally?.
You can come back when you're sufficiently informed. As for the rest of you lovely, lovely people – Where's Wally is as absorbing and addictive as it was when you were a child. Now never mind where Wally is; what did my mum do with all my books?!
Jetpack Joyride (Halfbrick)
I've saved the best until last for you: Jetpack Joyride.
Halfbrick continue its growing reputation as one of iOS and Android's most consistent developers with the latest instalment in the ongoing saga of Barry Steakfries.
Following his antics in MONSTER DASH and AGE OF ZOMBIES (also top portable games!) everyone's favourite badass is back, this time in a helicopter-game clone.
What separates Jetpack Joyride from all the other games in this genre – aside from the stellar visuals – is the inclusion of "missions" which keep you glued to your phone and incessantly coming back for just "one more go!"
And, best of all, it's currently FREE!
So there you have it, download all or any of these and I guarantee you'll be punishing your battery life in no time.
Anything I've missed? Or have a recommendation of your own? Let me know in the box below.