Gioteck HC-4 Stereo Headset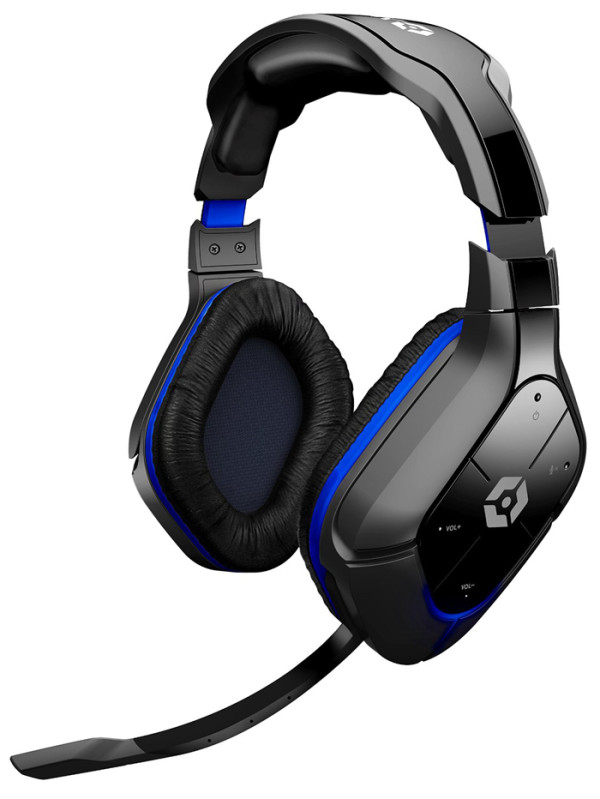 Stereo sound
Standard 3.5 mm headphone jack
8 hrs battery life
Charges via micro USB (cable included with headset)
Price: £33 on Amazon
Find out more on the Gioteck site
The HC-4, launched last December, is part of Gioteck's headset series, which ranges from the budget HC-1 to the more feature-heavy HC-5.
The headset itself looks good and is very light, which is a necessity for anything that you're planning to strap to your head for any extended period of time. I was initially a bit sceptical about the rhombus-y shape of the cups, thinking that this was done more as a gimmick rather than to aid functionality, but actually the shape is really comfortable. They can also rotate about 180°, which helps with the fit, and the band can be adjusted to accommodate head width and camber.
The cushions are very soft (more so than other headsets or headphones I've tried), but still manage to buffer your ears from the plastic cups and, while the material covering them feels very thin, I have had no problems with them in terms of wear or comfort.
Lit up, the headset really made me think of Tron. This can only be seen as a bonus.
The left cup illuminates in blue when powered up and orange while charging, which is something I really liked, although I know that a lot of people don't care about the aesthetics of such things: personally, I appreciate an attractive design. It also reminds you to switch the headset off when you're done with it and stops you forgetting about it when it's charging.
You can adjust the elevation of the microphone stick and bend it slightly to how you like it, with the stick and joint firm enough to maintain the position as you play.
Now, I don't have an Xbox One, so the following experience is based around the PS4 while playing Destiny and Dragon Age: Inquisition.
The HC-4 is very straightforward to set up – just charge and go.
It plugs straight into the PS4 controller and with a press of its power button you're ready to go – you can control the volume, mute the headset and power it on/off using the large buttons on the left cup, which have little nodes on their extremities so you can feel where to press as you play.
During single player, the depth of audio delivered as well as the isolation provided by the headphones really helps immerse you in the game, delivering both foreground and environmental sounds with clarity and giving you a sense of the virtual environment surrounding your character. In fact, the quality of the sound overall is very good, with the headphones working to amplify this.
During multiplayer, the audio is slightly less deep than in single player mode, but the stereo still gives you an idea of which direction, say, a gunshot was fired from. I found this pretty handy when playing Destiny, even though some players still managed to surprise me from above.
Voice chat is clear and sharp with no noticeable lag – a good step up from the default mic that comes with the PS4.
As with most headsets that aren't crazy expensive, the HC-4 doesn't have separate voice and audio channels, meaning that you can't give voice priority, but I didn't find this to be much of a setback and was able to hear all aspects of the audio just fine.
As I have weirdly tiny ears (trust me, they're weird) I find that they tend to ache after using over-ear headphones for any significant length of time (read 1 hour plus), but I wore the HC-4 for more than 2 hours without any trouble whatsoever. The battery life is also very good and lets you maintain consistent gameplay for a minimum of 8 hours, at which point you should probably take a tea break and recharge.
The verdict
Gioteck's HC-4 is a great headset and, at £33, excellent value for money. It's light and comfortable, so you can play without aches for hours and hours at a time; it delivers a good quality of audio both in single and multiplayer; and it has been consistently effective throughout my trial. If you're looking for a good headset on a budget, you've found it.
I was sent the HC-4 for review purposes. All opinions are my own.