Need your storage, streaming and power problems solved? QNAP's QGenie is a handy all-in-one.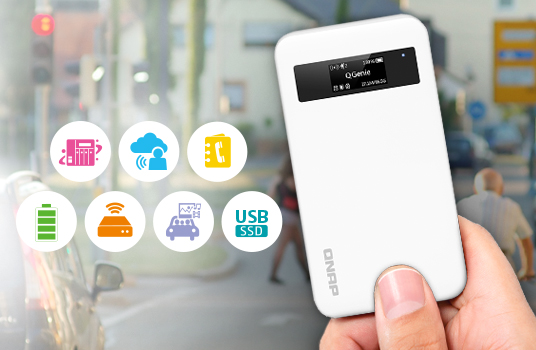 QGenie 7-in-1 Mobile NAS QG-103N
CPU: MIPS 24 KEc 600 MHz
64 MB RAM
16 MB flash memory
Wifi: 802.11 n 1T1R 150 Mbps
USB 3.0 port, Ethernet port, SD card slot
Power consumption: 0.8 w
Built-in 3000 mAh battery
Can act as an external 32GB SSD
Supports Qsyc, Qfile mobile app, myQNAPcloud, Windows, Macs, and has apps available for both iOS and Android phones
Dimensions: 115 mm x 58.5 mm x 17.5 mm
Weight: 122 g
In the box: QGenie, USB 3.0-to-mini USB 3.0 cable and quick installation guide
Out of the box, the QGenie is immediately lightweight and very flash: it's small,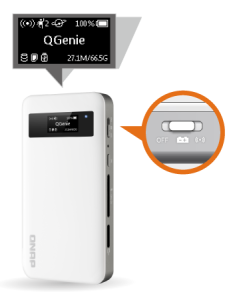 glossy and has a sleek little screen. On the side, there is one button, which lights up or turns off the display; a tiny pinhole hiding the reset; and a slide switch with three positions – 'off', 'power bank' and 'Wi-Fi sharing'.
The first two positions are pretty straightforward: one to turn off, two to recharge your phone. The third position is the fun one. It immediately lets you see how much storage is available, the device name, battery power, Wi-Fi status, internet status and the number of tiny, dancing OLED men that it is connected to (men, devices – whatever); it also has icons for the QGenie SSD, SD card and USB drive. It also activates the device's wireless connectivity, which takes a few seconds to boot up. In this mode, you can connect to the QGenie through the QNAP app, Qfile.
The first thing I did on connecting (other than changing the QGenie's name to 'QGene', because for some reason I found this amusing) was transfer over a few files – some photos and some songs. The transfer didn't take very long – about the same as transferring something from one drive on a computer to another – and allowed me to immediately stream the transferred music directly on to my phone, no lag and no awkward stuttering. This was awesome, mostly because my phone has a teeny amount of memory and no SD card. Also, Qfile comes with its own media player, which will continue to play as you navigate the app (unless you turn the app off, obviously). You can also stream video from it no problem, regardless of how many devices are leeching it at once.
One of the QGenie's immediately super-useful functions is that of a back-up phone battery. Fully charged (which takes about three hours), the QGenie will give you 10 hours of juice, or sacrifice its own life force to feed one of your other devices. According to the packaging, the QGenie is able to charge a smart phone 1.2 times, mp4 player twice and a digital still camera three times – I've only tried out the first of these and it seemed like a good estimate. Since the QGenie uses a micro USB 3.0 connection to charge/wire to anything with a USB slot, it made it a bit awkward for me to use given my uncanny knack for constantly misplacing the darn things (I have three scattered in some unknown locations around my house, whereas I have at least 50 regular USB-to-USB cables). But this isn't really an issue of performance – more user competence.
The instructions that come with the QGenie are simultaneously very helpful and vaguely bewildering to read. Example:
3. Internet

After setup QGenie's Internet connection, devices could access through Internet through QGenie. QGenie supports 3 methods to connect to Internet: Wired, Wireless, and USB.
These are more endearing than anything else and they do get their point across, so no harm done.
But the QGenie's main pull is its connectivity: it can be accessed by 20 devices via wireless LAN and supports simultaneous file access for up to eight devices. Once you're connected to the QGenie's discrete Wi-Fi network (just like connecting to a regular Wi-Fi network) you have access to its storage (flashdrive, SD card, etc). You can also easily set it up to work as a wireless router and the SD card is capable of reading high-capacity cards (e.g. SDXC).
One thing that was a bit awkward was the fact that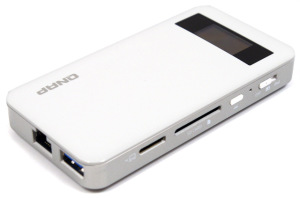 I was at home at the time and so my phone automatically connected and kept reconnecting to my Wi-Fi instead of the QGenie as I was fiddling about with it. When using mobile data away from memorised Wi-Fi sources, this wasn't an issue. I ended up getting my phone to forget my home Wi-Fi network to stop it hassling me as nothing else seemed to work, QGenie and phone settings included. (I have since hunted around online for others having the same issue, but nothing's shown up – maybe it's another competence thing…)
Overall, I can imagine the QGenie being super useful as storage when out shooting photos and it's already proven its worth to me as a power source. At around £70, the price isn't bad for this Swiss-army-knife gadget, especially given that it performs well.
The QGenie is a one-stop-shop if you're looking to back up your files, extend your storage, charge your devices and stream your media – or if you're just after a handy portable router.
At the time of writing, the QGenie was £74.72 on Amazon (down from £102) and £65.99 on Ebuyer.
I was sent a complementary QGenie in exchange for an honest review. All opinions are my own.