Waterproof, dustproof and sporting a high-definition screen – will the Kobo Aura H2O become your go-to e-reader?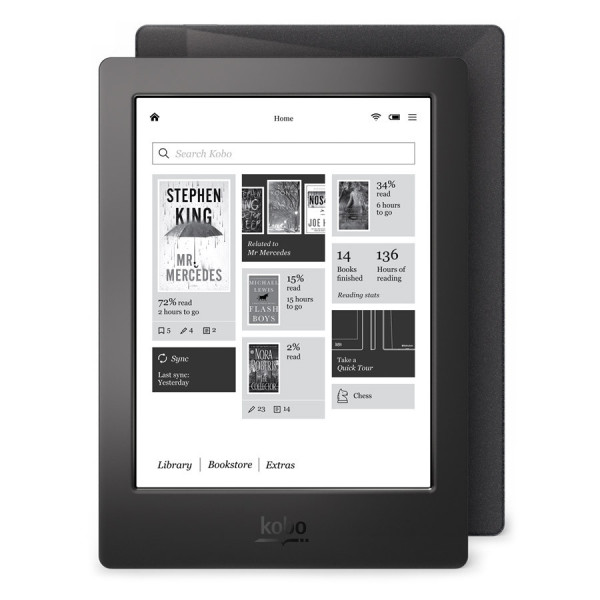 Up to 2 months' battery life
4GB storage
Dimensions: H179 x W129 x D9.7 mm
265PPI display
Resolution: 1430 x 1080 pixels, size 6.8″
Carta E Ink HD touch screen
ComfortLight technology for backlighting
Ports: MicroSD card slot, MicroUSB
Weight: 233 g
Wireless networking: wi-fi 802.11b/g/n
Waterproof up to one metre for 30 minutes
Compatible with EPUB, EPUB3, PDF and MOBI; JPEG, GIF, PNG, BMP and TIFF; TXT, HTML, XHTML and RTF; CBZ and CBR; supports Adobe DRM (library books)
I've always had Kindles, from the first slightly-awkward-and-bulky-yet-still-magical Kindle Keyboard to the sleeker Paperwhite (you can read my review of that little treasure here), and for this reason I will largely be comparing the usability of Rakuten's Kobo Aura H2O with the Kindle Paperwhite.
So let's begin with the Aura H2O's defining feature:
Water endurance

Waterproof-ity is an excellent addition as lots of people, myself among their number, love reading in the bath. While I have yet to drop my Kindle or phone into the soapy, watery depths, I have had some pretty soggy experiences with more than a few paperbacks, so having the Kobo be waterproof feels like a handy safety net. If this isn't a big selling point for you, but you otherwise like the look of the Kobo, try the Kobo Aura HD – it's essentially the same device minus the waterproofing, meaning that it'll come at a more competitive price.
The Aura H2O's waterproof feature also means that it has a little rubber flap covering its MicroUSB port, and beneath this flap is where you can also find the fabled MicroSD slot. Given the device's 4GB internal memory, this slot feels like overkill and wouldn't sway me to backing the Kobo's corner, but still, it doesn't detract anything and offers the bonus option of upping your storage space by 32GB.
Easy on the eye
Kobo's Carta E Ink technology combines with the Aura H2O's 1430 x 1080 pixel ClarityScreen+ to put clarity first and foremost, resulting in a very crisp and defined "reading experience", to use a sales-y term that I'm not entirely comfortable with. The ComfortLight provides completely even backlighting so that you can read in the brightest and darkest conditions without straining your eyes.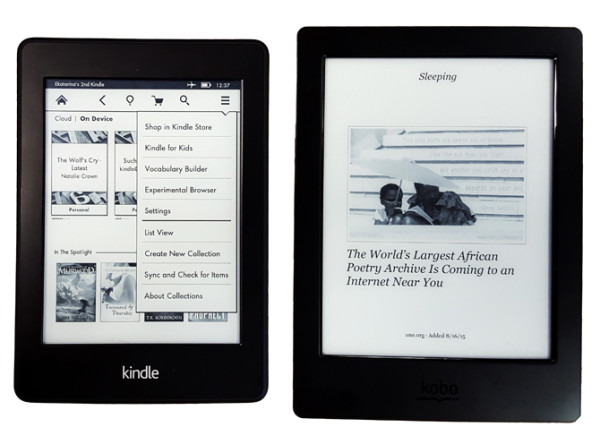 The display is cleaner and crisper than that of my beloved Kindle Paperwhite (this is true for both the original Paperwhite and Paperwhite 2), not to mention bigger, and the layout of the device's dash is cleaner and more dynamic. This may be a bit unfair though – these days, Amazon does also have the Kindle Voyage, but I have not been fortunate enough yet to try it out, so a comparison will have to wait.
A bigger screen does also necessitate an increase in bulk. While the heft of the Aura H2O isn't dramatically greater than that of the Paperwhite (just 18 g heavier than the 3G Paperwhite, 27 g heavier than the wi-fi model), it is a little weightier than feels immediately comfortable, especially if you're likely to be reading at length in the bath while holding the thing above water. And there's a reason that most e-readers stick to 6-inch screens – it's comfortable to hold and most closely resembles the column width of a paperback.
It's a Kobo Reading Life
The Aura H2O also comes with a built-in dictionary and in-text annotations, and does the generic thing of letting you add notes and bookmarks to your books, as well as organise your bookshelf by author/title/alphabet. What's more novel (badumtisch!) is the zoom function, which lets you get up close to text as well as images.
Highlighting a word or passage on the Aura H2O brings up the definition and an option to share to Facebook, and there's an additional function called Beyond the Book, which suggests a plethora of web articles, books and authors related to your highlighted text – now, this is an interesting idea, but it often has the effect of leading you away from the book and off into the internet.
Meanwhile, highlighting a word or passage on the Paperwhite brings up a more contained set of tabs: the definition, Wikipedia and Amazon's X-Ray, if the book supports it (X-Ray being not dissimilar to a built-in revision guide, reminding you of who characters are and bringing up key passages of relevance). This gives you the chance to bring yourself a bit closer to the text without going too far afield, and personally I prefer it – after all, one of the reasons I favour reading on an e-reader over a tablet is that there are fewer distractions.
Another feather in Kindle's hat is the Amazon Kindle site, which you can use to catalogue your reading progress, review books and see a compilation of all your highlights.
You can also set your Paperwhite to automatically compile your looked-up words in a Vocabulary Builder so that you can come back to them later, or even set it to provide definitions of difficult words as you read (these appear in small writing above the relevant words) – particularly helpful when used for kids' profiles with FreeTime, which lets you decide which books your kids can access and track their reading progress and vocabulary level.
Kobo Picks and Collections helps you find more content based on your reading history, although this is something that Amazon's recommendation engine also does and does well. I didn't have the Aura H2O for long enough to really compare the value of its recommendation feature over Amazon's, so unfortunately can't comment further.
Just my type
Kobo's TypeGenius lets you adjust font style and size, as well as text weight and sharpness, margin width, line spacing and what part of the screen you need to jab in order to turn the page (this last one isn't adjustable on the Paperwhite). Up until recently the Kobo had the advantage of beautifully justifying its text, with the Kindle falling behind in this respect by tending to distribute words unevenly, resulting in unsightly rivers of blank space running through your page. The most recent update seems to have taken care of that, however, and the Kindle's justification skills now rival Kobo's, and its shiny new Bookerly typeface is just really nice and unobtrusive.
Saying that, the Kobo does also give the option of aligning your text to the left, resulting in a ragged right side but also equal spacing, which is a neat way of sidestepping the issue altogether.
Sharing is caring
Where the Kobo lets you share content to Facebook, Kindle links your account with Facebook and Twitter – I think in the US it also links to Goodreads, but such lofty heights of connectivity have yet to reach the UK (which is silly, really – why would anyone want to link book notes to Facebook over Goodreads??).
If you happen to have an Amazon Prime account then you'll also have access to the Kindle Lending Library, which lets you borrow more than 800,000 books free of charge, while the Paperwhite also lets you link family Amazon accounts through its Household and Family Library feature.
There is currently no way to do any of this on Kobo e-readers as content is tied to your account, although this may change in the future – in fact it will have to if they want to keep up with Amazon.
Procrastination enabler
The Aura H2O also has a games section, which includes things like a suitably distracting sliding-block game. As if that isn't enough to throw you off your well-intentioned tome-reading exploits, it also has a Sketch function, which lets you scribble all over the touchscreen and save the resulting doodle or note. This function is surprisingly precise given that the Aura H2O's primary function is that of an e-reader, allowing you to draw unbroken curves without the line jumping around everywhere (which was an issue even with the Acer Iconia One 8, which is lauded for its touchscreen technology).
Buy the book
The Kobo Book Store is stocked with more than four million books and comics, recent releases included, but it is hard for anyone to compete with Amazon on this front – it's just cheaper and more widely used.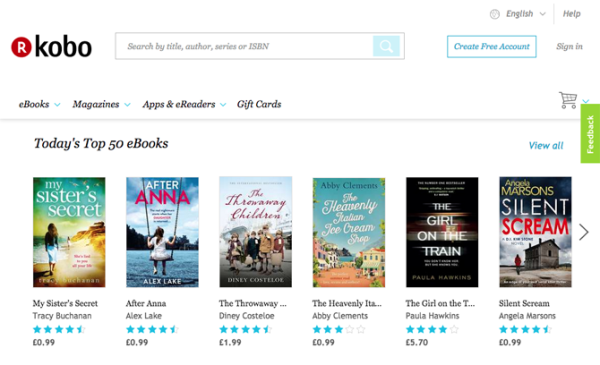 Something that is likely to always be lopsided given Amazon's sweeping empire is the number of customer reviews available in the Kobo Book Store – it simply cannot compete with the giant's review ecosystem, and you will likely find yourself looking up reviews on Amazon and then going back to the comparatively review-barren Kobo store to purchase.
The syncing speeds also throw up a big disparity: where Amazon's e-readers take all of five seconds to sync automatically when, say, purchasing a book, Kobo's Aura H2O can take around 15 minutes of manual refreshing. (I know, I know, big problems we have these days. But it does highlight a performance gap.)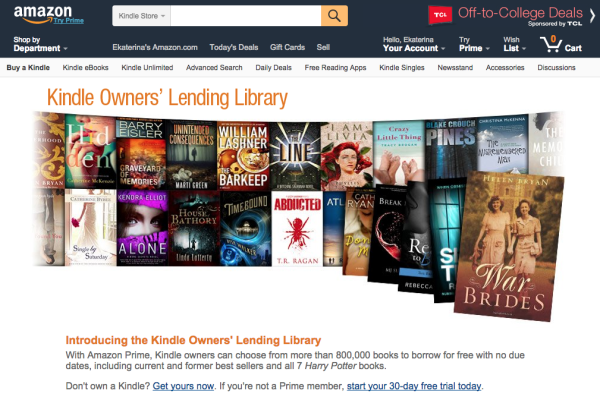 Also, while Amazon's gadgets can come 3G enabled – and maintain lightning-fast syncing speeds even via 3G – Kobo's offerings remain wi-fi only. This can be a significant setback for the Aura H2O, given Amazon's global 3G network using which you can download new books virtually anywhere. Of course, you can just preload your e-reader with material prior to going abroad, but it isn't great seeing as the Aura H2O is big on the article-reading front (we'll get to the excellent Pocket integration shortly!).
I'll let you weigh the benefits of having 3G against having a waterproofed device and decide which is more important to you.
Like an open book
One extremely important advantage that Kobo e-readers have over Kindles is their compatibility with open book formats.
Where Kindles can only work with Amazon AZW3/AZW, unprotected MOBI, PDF and TXT files, Kobo e-readers will open MOBIs, EPUBs, PDFs, TXT, HTML, CBZ/CBR and the DRM-protected content of Adobe Digital Editions (which is used for library downloads).
While most readers won't be too bothered about compatibility, mainly downloading texts from the respective company's marketplace, for those of us who like to fiddle about pulling our library together from all over the place the distinction is a godsend. Technically speaking, you can use Calibre to reformat your files and sneak them onto a Kindle, but this is far more time-consuming than Kobo's plug-and-play style. (You can also use Calibre to make Amazon downloads workable on your Kobo e-reader, but this process is fiddlier still, requiring extra plugins and whatnot.)
Pocket
The ultimate selling point of the Aura H2O, and I suspect the Aura HD, is its Pocket integration.
Pocket is one of my favourite things in the world – the app, which lets you store articles from wherever on the web to read later, stops me from having 60-plus tabs open at any given time. Naturally, what you end up doing is adding lots of content to it and then… well, letting things slide and not really putting in the time to actually read it later.
The Aura H2O puts its integrated Pocket app front and foremost, centre stage on your dashboard, and lets you access all of your stored reads smoothly, quickly, (dare I say?) elegantly. I can't tell you what a difference this makes. Suddenly I was reading all the things. And it was fantastic.
It's little surprise then that I've significantly lagged behind in my Pocket reading since returning the Aura H2O.
While there are services you can use to shoot Pocket articles over to your Kindle, these work far less smoothly than the Pocket app on Kobo and the Paperwhite doesn't support Android apps. (There are, however, Amazon apps and Chrome/Firefox plugins that can send web content straight to your Kindle, but Pocket nevertheless trumps these in terms of accessibility and style.)
Achievement unlocked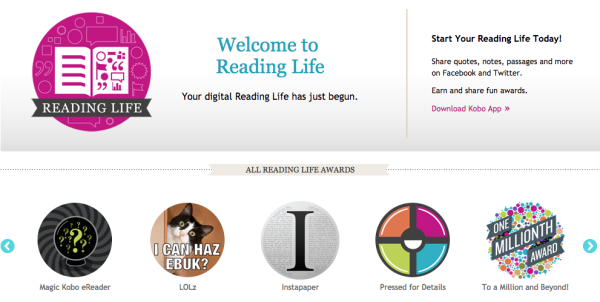 The Reading Stats you get with Kobo are also majorly appealing to those who, like myself, need to feel as though they're productively accomplishing something even when they aren't really. The stats show how many hours you've spent reading, percentage of library read, number of books finished, average minutes per session, average pages per minute… it's addictive. There is also an Awards section in which you earn ribbons/badges for doing various things like finishing a book.
The Paperwhite does similarly let you earn badges, but these are only available in children's profiles via FreeTime.
Epilogue
Overall, and despite the shortcomings outlined above, I am actually tempted to get a Kobo Aura H2O myself, and here's why: it's better for reading articles. While the Kindle Paperwhite is still my choice for reading ebooks, because that's the thing that it does well and without distractions, the Kobo Aura H2O is better for articles and newspapers, not least due to its compatibility with Pocket (although I must say that I don't see the waterproof factor as being truly necessary for me, and would probably go for the Aura HD or Glo HD).
I would pick up the Aura H2O if I wanted to read a few small things, maybe have a little play around with its block-slider game, mess about on its scribble screen while having a quick coffee, but the Paperwhite is what would accompany me through those long, perilous journeys through narratives and tall tales.
It could be that I'm just biased towards the Paperwhite, but I don't think so – I genuinely love the Aura H2O's design. I just think that when it comes to continuous book reading, the Paperwhite is built to purpose.
On top of everything else, however, there's price to consider.
With the Aura H2O falling somewhere in the middle of the Paperwhite range, it really does leave things up to personal preference – and even then you may want to consider the Kindle Voyage (£169.99 wi-fi/£229.99 3G) and the Kobo Aura HD (£79.99 – read our review here!) or Kobo Glo HD (£109.99).
Which e-reader to buy?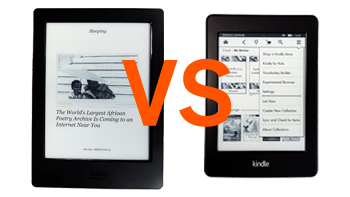 If you haven't already got an e-reader and are wondering which of these two is best, then let me break it down like this:
Do you want to be able to have a few apps on the go, read articles as well as books, perhaps scribble the odd doodle and generally hop about a handful of different functions at once, largely while at the beach or in the bath? Get a Kobo Aura H2O.
Do you want to just read books on your device, free from distractions? Get a Kindle Paperwhite.
I was loaned a Kobo Aura H2O in exchange for an honest review.